Langue de l'interface administrateur
Pour changer la langue de l'interface et d'autres paramètres de Plesk :
Cliquez sur le lien Profils & Préférences dans le volet de navigation.
Indiquez les éléments suivants :

Langue de l'interface administrateur Sélectionnez la langue de votre interface Plesk.
Skin de l'interface administrateur. Choisissez un thème Plesk dans la liste de thèmes disponibles pour votre version de Plesk.Pour en savoir plus sur les thèmes, consultez la section Apparence et thèmes.
Autorisez plusieurs sessions sous le compte administrateur. Par défaut, Plesk permet des sessions simultanées de plusieurs utilisateurs connectés à Plesk avec la même combinaison nom d'utilisateur/mot de passe. Ceci peut s'avérer utile pour déléguer les fonctions de gestion à d'autres utilisateurs ou si vous avez quitté le navigateur accidentellement sans vous déconnecter, ce qui ne vous permet normalement pas de vous reconnecter tant que vous n'avez pas fermé votre session. Si vous n'en avez pas besoin, vous pouvez désactiver cette fonctionnalité.
Pour sélectionner la langue de l'interface par défaut de vos clients :
Allez sous Outils & Paramètres > Langues (dans le groupe Apparence de Plesk).
Cochez la case correspondant à la langue de l'interface qui sera définie par défaut pour les nouveaux utilisateurs de Plesk, puis cliquez sur Définir par défaut.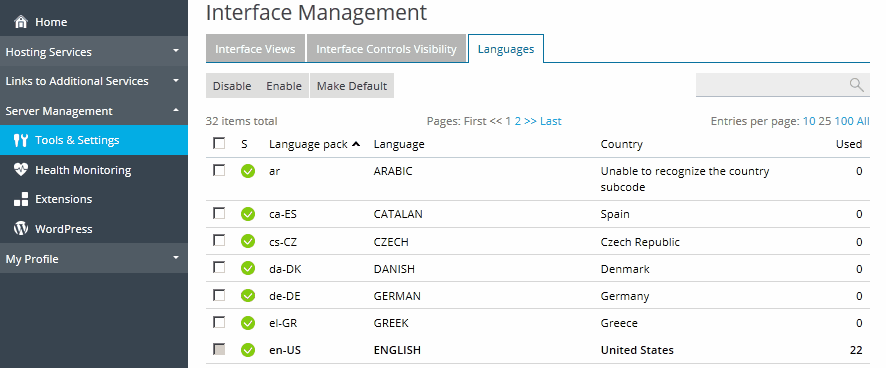 ---
Leave your feedback on this topic here
If you have questions or need support, please visit the Plesk forum or contact your hosting provider.
The comments below are for feedback on the documentation only. No timely answers or help will be provided.