Paramètres de script Web
Vous pouvez activer la prise en charge des langages de script et de programmation pour chaque site Web de votre abonnement :
Active Server Pages (ASP)
Microsoft ASP.NET (hébergement Windows)
Server Side Includes (SSI) (hébergement Linux)
PHP hypertext preprocessor (PHP)
Common Gateway Interface (CGI)
Fast Common Gateway Interface (FastCGI) (hébergement Linux)
Perl
Python.
Pour activer la prise en charge d'un langage de script spécifique, allez dans Sites Web & Domaines > Paramètres d'hébergement. Cochez les cases en regard des langages de script souhaités et cliquez sur OK. Si vous ne voyez pas le lien Paramètres d'hébergement, contactez votre hébergeur.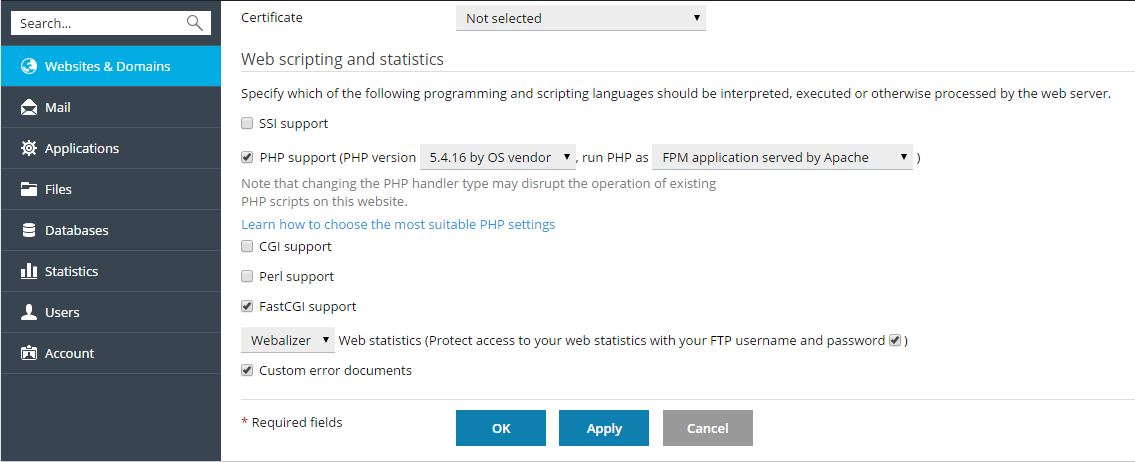 Depuis Plesk 10.4, vous pouvez configurer les paramètres PHP un par un pour chaque site Web (ou sous-domaine) dans votre abonnement. Pour en savoir plus sur la configuration PHP personnalisée, consultez la section Paramètres PHP.
---
Leave your feedback on this topic here
If you have questions or need support, please visit the Plesk forum or contact your hosting provider.
The comments below are for feedback on the documentation only. No timely answers or help will be provided.