Logs et statistiques
Ces paramètres (dans Packs de services > sélectionnez un pack > onglet Logs & Statistiques) définissent comment stocker les statistiques et les logs de l'abonnement.
Remarque : ces paramètres dans les abonnements ne sont pas synchronisés avec les packs de services.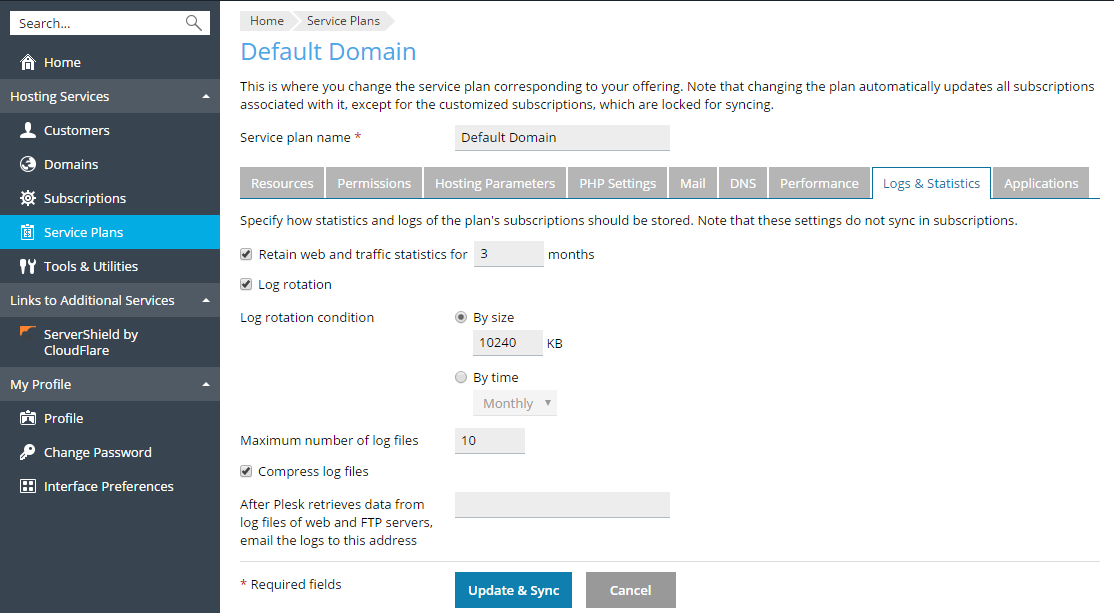 Conserver les statistiques du trafic et du Web
Définit la période (en mois) pendant laquelle les rapports sur les statistiques Web d'abonnements (générées par le composant de statistiques Web sélectionné) et les statistiques de trafic (générées par Plesk) doivent être disponibles.
Remarque : le paramètre Conserver les statistiques du trafic et du Web n'est pas modifié dans les abonnements lorsque vous le mettez à jour pour un pack de services. La seule manière de mettre à jour ce paramètre pour chaque domaine consiste à le modifier dans la base de données de Plesk. Pour en savoir plus, consultez cet article de la base de connaissances.
Rotation des logs
Permet d'effacer et de recycler automatiquement les fichiers de log du serveur Web. Vous pouvez également activer la compression des fichiers de log traités et les envoyer vers une adresse mail spécifique.
---
Leave your feedback on this topic here
If you have questions or need support, please visit the Plesk forum or contact your hosting provider.
The comments below are for feedback on the documentation only. No timely answers or help will be provided.