Lingua dell'interfaccia dell'amministratore.
Per cambiare la lingua dell'interfaccia e altre impostazioni di Plesk:
Fai clic sul collegamento Profilo e Preferenzenel pannello di navigazione.
Indica le seguenti informazioni:

Lingua dell'interfaccia dell'amministratore.Seleziona la lingua per Plesk.
Stile dell'interfaccia amministrativa.Scegli un tema per la personalizzazione di Plesk dall'elenco di temi disponibili in Plesk. Per informazioni dettagliate sui temi, vedi Temi e branding .
Consenti multipli sessioni sotto l'account dell'amministratore.In modo predefinito Plesk consente l'esecuzione di più sessioni simultanee per diversi utenti connessi a Plesk che usino la stessa combinazione di login e password. Questo può risultare utile quando si delegano le funzioni di gestione ad altri utenti o nel caso in cui accidentalmente si chiuda il browser senza effettuare il logout, non riuscendo quindi ad accedere di nuovo finché la sessione sarà scaduta. È possibile disattivare questa prestazione, se non è necessaria.
Per selezionare la lingua predefinita dell'interfaccia per i propri clienti:
Vai su Strumenti e impostazioni> Lingue(nel gruppo Aspetto di Plesk).
Seleziona la casella di controllo corrispondente alla lingua che verrà impostata come predefinita per i nuovi utenti di Plesk e fai clic su Rendi predefinita.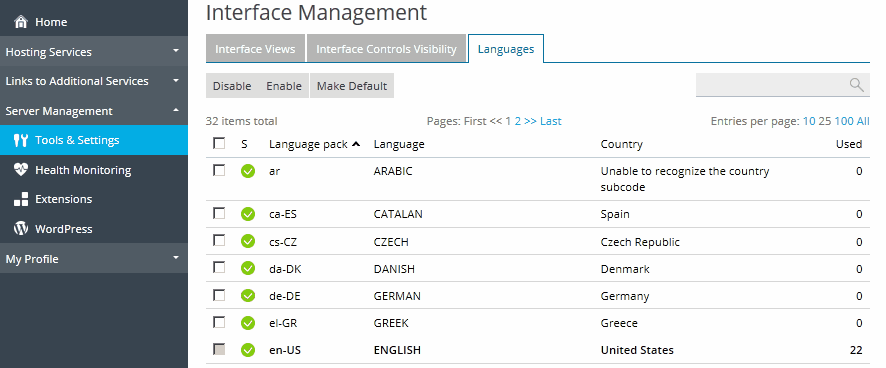 ---
Leave your feedback on this topic here
If you have questions or need support, please visit the Plesk forum or contact your hosting provider.
The comments below are for feedback on the documentation only. No timely answers or help will be provided.