Visualizza sommario dell'abbonamento
Quando ti abboni ai servizi di hosting, in Plesk viene creato un account utente che ti permette di gestire in modo autonomo i tuoi siti web e caselle postali.
Puoi visualizzare la seguente informazione sul tuo account:
Correnti abbonamenti ai piani di servizio.

Puoi esserti abbonato a diversi piani di servizio alla volta e quindi, puoi avere diversi abbonamenti associati al tuo account.

Risorse assegnate e utilizzate.
Opzioni di hosting disponibili per i tuoi siti web.
Operazioni che puoi eseguire nell'istanza di Plesk.
Per visualizzare le informazioni sul proprio account e gli abbonamenti correnti:
Accedi ad Account.
Per visualizzare le risorse, le opzioni di hosting o i permessi, apri la scheda corrispondente:

Per visualizzare una lista delle risorse assegnate e utilizzate, fai clic sulla scheda Risorse.
Per visualizzare una lista delle opzioni di hosting disponibili per il tuo account, fai clic sulla scheda Opzioni di Hosting.
Per visualizzare una lista delle operazioni che puoi realizzare nel pannello di hosting, fai clic sulla scheda Permessi.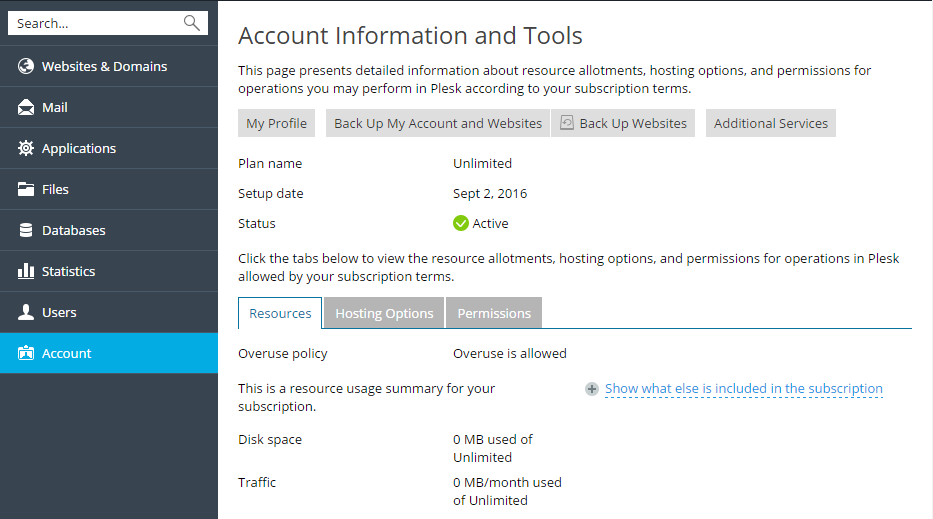 ---
Leave your feedback on this topic here
If you have questions or need support, please visit the Plesk forum or contact your hosting provider.
The comments below are for feedback on the documentation only. No timely answers or help will be provided.