Aggiornamento di Plesk per Linux tramite la GUI dell'installer
Se desideri poterti aggiornare a una versione di Plesk diversa da quella stabile più recente, puoi effettuare l'aggiornamento utilizzando l'interfaccia grafica. Procedura per iniziare:
wget https://autoinstall.plesk.com/plesk-installer
chmod +x plesk-installer
./plesk-installer --web-interface
L'installer si avvia nella modalità dell'interfaccia grafica. Per accedervi, apri il browser e visita il seguente indirizzo:
https

://<

nome

 

host

 

o

 

indirizzo

 

IP

 

del

 

server

>:

8447
Se desideri aggiornarti all'anteprima più recente della prossima release, esegui invece questo comando:
./

plesk

-

installer

 

--

web

-

interface

 

--

tier

 

testing
Se si preferisce utilizzare una console per riga di comando durante l'aggiornamento, vedere l'argomento Aggiornamento di Plesk per Linux tramite la console dell'installer.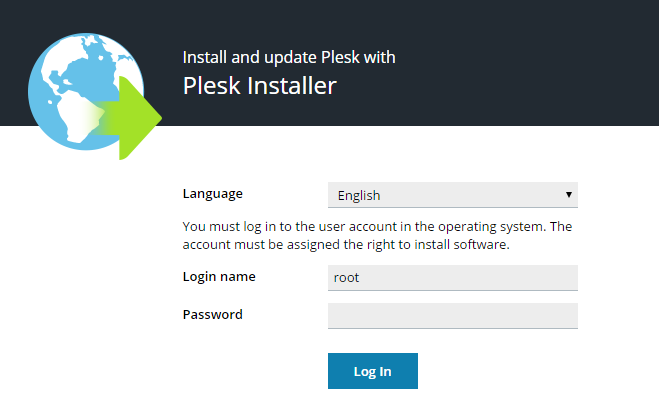 Seleziona la lingua desiderata per l'interfaccia e accedi utilizzando le tue credenziali da utente "root" di Windows.

In "Sommario prodotti" puoi visualizzare la versione di Plesk installata attualmente, nonché la versione più recente, se disponibile. Fai clic su Installa o aggiorna prodotto per continuare.
Seleziona nel menu la versione di Plesk e fai clic su Continuare per iniziare l'aggiornamento.
---
Leave your feedback on this topic here
If you have questions or need support, please visit the Plesk forum or contact your hosting provider.
The comments below are for feedback on the documentation only. No timely answers or help will be provided.