Visualizzare l'anteprima di siti web
Dopo che un sito web è stato creato, non diventa disponibile su Internet subito dopo. Dopo che registri un nome di dominio o modifichi l'indirizzo IP di un sito web, la propagazione DNS deve essere completata prima che la gente possa visitare il tuo sito web. Puoi impiegare dalle 24 alle 48 ore. Tuttavia, Plesk permette di sfogliare il tuo sito web subito dopo che sia stato pubblicato utilizzando la funzione di anteprima del sito.
Per visualizzare l'anteprima di un sito web:
Vai su Siti Web e Domini.
Fai clic su Anteprimanella parte inferiore del nome di dominio del sito web per cui desideri visualizzare l'anteprima.
Il tuo sito web si aprirà in una nuova scheda del browser. È possibile condividere il link dell'anteprima con altre persone - funziona in qualsiasi parte del mondo.
Se il pulsante di Anteprimanon è presente nella pagina Siti web e domini, contatta il tuo provider di hosting.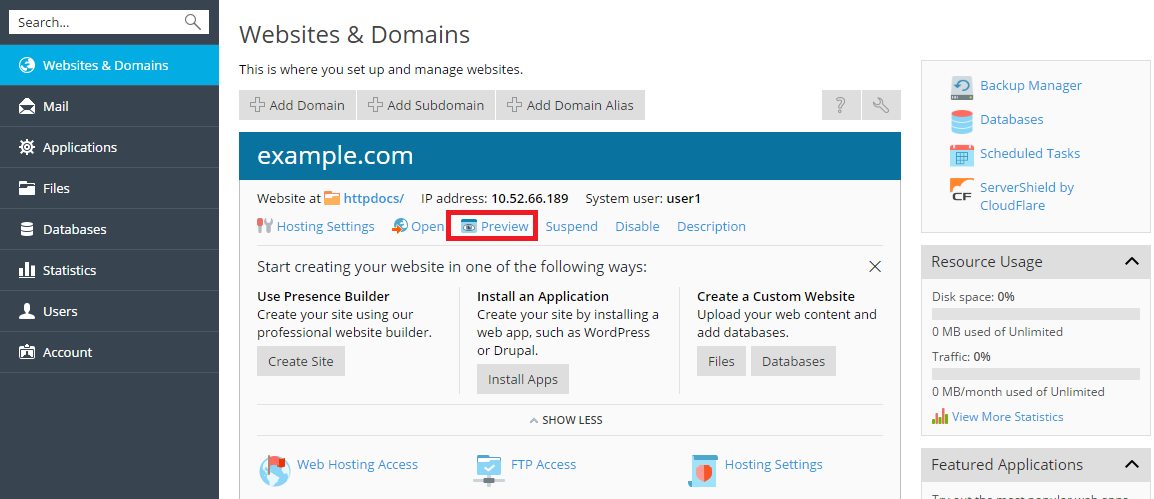 ---
Leave your feedback on this topic here
If you have questions or need support, please visit the Plesk forum or contact your hosting provider.
The comments below are for feedback on the documentation only. No timely answers or help will be provided.