Настройки веб-скриптов
Для каждого сайта вашей подписки можно включить поддержку следующих языков программирования и скриптов:
Active Server Pages (ASP)
Microsoft ASP.NET (хостинг на базе Windows)
Server Side Includes (SSI) (хостинг на базе Linux)
PHP hypertext preprocessor (PHP)
Common Gateway Interface (CGI)
Fast Common Gateway Interface (FastCGI) (хостинг на базе Linux)
Perl
Python.
Чтобы включить поддержку определенных языков, перейдите на страницу Сайты и домены > Настройки хостинга, поставьте галочки напротив нужных языков и нажмите ОК. Если эти отсутствует настройка Настройки хостинга, обратитесь к своему хостинг-провайдеру.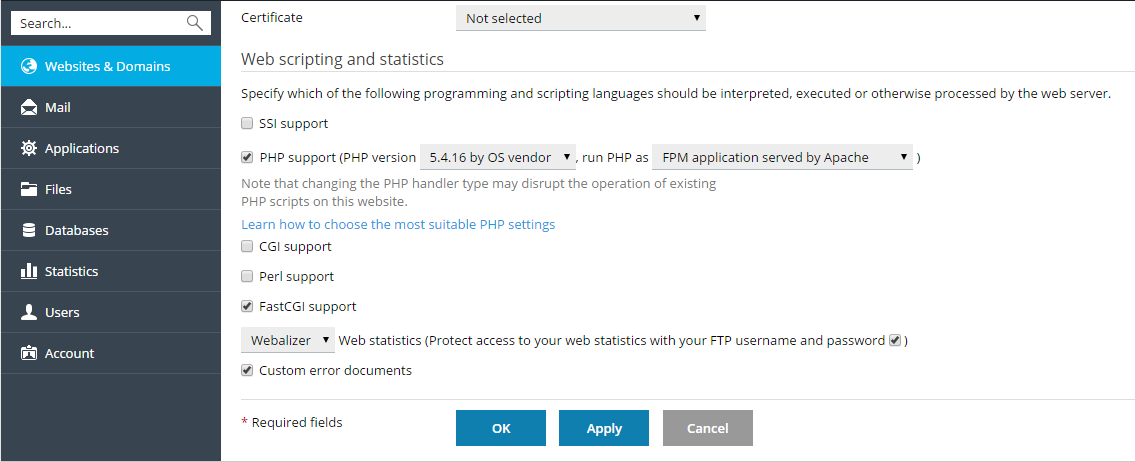 Начиная с Plesk 10.4 вы можете настраивать PHP индивидуально для каждого сайта (или субдомена) в вашей подписке. Подробную информацию об индивидуальной настройке PHP смотрите в разделе Настройки PHP.
---
Leave your feedback on this topic here
If you have questions or need support, please visit the Plesk forum or contact your hosting provider.
The comments below are for feedback on the documentation only. No timely answers or help will be provided.