Anzeigen einer Abonnement-Zusammenfassung
Wenn Sie Hosting-Services abonnieren, wird ein Benutzerkonto in Plesk erstellt, mit dem Sie Ihre Websites und E-Mail-Postfächer selbst verwalten können.
Folgende Informationen über Ihr Konto können Sie anzeigen:
Aktuelle Abonnements von Service-Paketen

Sie können mehrere Service-Pakete auf einmal abonnieren und somit mehrere mit Ihrem Konto verknüpfte Abonnements besitzen

Zugeteilte Ressourcen und Ressourcenverbrauch
Hosting-Features, die für Ihre Websites verfügbar sind
Aktionen, die Sie in Ihrem Plesk durchführen können
So können Sie Informationen zu Ihrem Konto und zu aktuellen Abonnements anzeigen:
Gehen Sie zu Konto.
Nun können Sie Ressourcen, Hosting-Optionen oder Berechtigungen einsehen, indem Sie auf die entsprechende Registerkarte klicken:

Wenn Sie eine Liste mit den zugeteilten Ressourcen und dem Ressourcenverbrauch anzeigen lassen wollen, klicken Sie auf die Registerkarte Ressourcen.
Zum Anzeigen einer Liste mit den für Ihr Konto verfügbaren Hosting-Features klicken Sie auf die Registerkarte Hosting-Optionen.
Um eine Liste der Aktionen anzuzeigen, die Sie in Ihrem Hosting-Panel durchführen können, klicken Sie auf die Registerkarte Berechtigungen.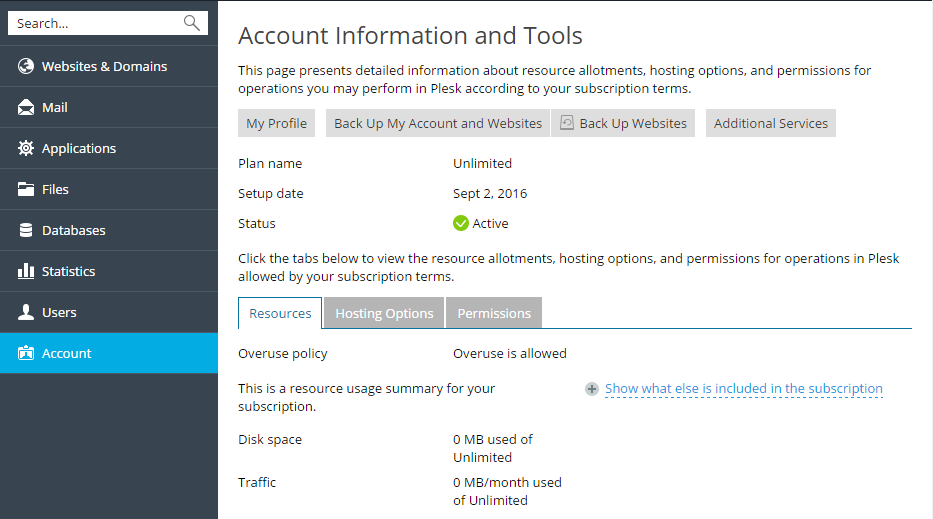 ---
Leave your feedback on this topic here
If you have questions or need support, please visit the Plesk forum or contact your hosting provider.
The comments below are for feedback on the documentation only. No timely answers or help will be provided.