Protokolle und Statistiken
Diese Parameter (zu finden unter Service-Pakete > Paket auswählen > Registerkarte Protokolle & Statistiken) definieren, wie Statistiken und Protokolle eines Abonnements gespeichert werden sollen.
Hinweis: Die zugehörigen Einstellungen in den Abonnements werden nicht mit den Service-Paketen synchronisiert.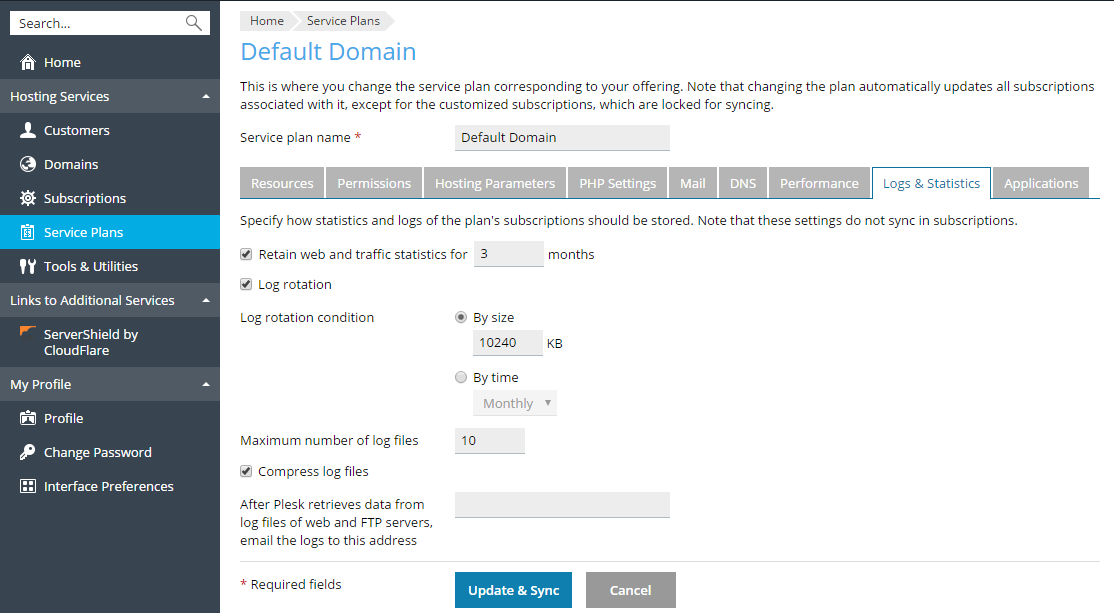 Aufbewahren von Web- und Traffic-Statistiken
Hier Sie können Sie einen Zeitraum (in Monaten) angeben, der festlegt, wie lange Berichte zu Webstatistiken (die von der ausgewählten Webstatistik-Komponente generiert werden) und Traffic-Statistiken des Abonnements (die von Plesk generiert werden) gespeichert werden sollen.
Hinweis: Die Einstellung Web- und Traffic-Statistiken behalten wird nicht in Abonnements geändert, wenn Sie sie für ein Service-Paket aktualisieren. Die einzige Möglichkeit, diese Einstellung für jede einzelne Domain zu aktualisieren, ist, sie in der Plesk Datenbank zu ändern. Weitere Einzelheiten hierzu finden Sie in diesem KB-Artikel.
Protokoll-Rotation
Aktiviert die automatische Bereinigung und Wiederverwendung von Protokolldateien des Webservers. Sie können zudem die Komprimierung von verarbeiteten Protokolldateien und den Versand an eine bestimmte E-Mail-Adresse aktivieren.
---
Leave your feedback on this topic here
If you have questions or need support, please visit the Plesk forum or contact your hosting provider.
The comments below are for feedback on the documentation only. No timely answers or help will be provided.