Sprache der Oberfläche des Administrators
So ändern Sie die Sprache der Benutzeroberfläche und andere Einstellungen für Ihr Plesk:
Klicken Sie im Navigationsbereich auf den Link Profil & Einstellungen.
Legen Sie die folgenden Einstellungen fest:

Sprache der Administratoroberfläche. Wählen Sie die Sprache für Ihr Plesk aus.
Skin der Administratoroberfläche. Wählen Sie ein Theme für das Plesk Branding aus der Liste der Themes aus, die in Plesk verfügbar sind.Nähere Informationen über Themes finden Sie im Abschnitt Markenidentität und Themes.
Mehrere Sitzungen unter Administratorkonto zulassen. Standardmäßig sind in Plesk mehrere gleichzeitige Sitzungen für mehrere mit der gleichen Benutzername/Passwort-Kombination in Plesk angemeldete Benutzer möglich. Dies kann hilfreich sein, wenn Sie einen Teil der Verwaltung an andere Benutzer abgeben oder wenn Sie versehentlich den Browser schließen, ohne sich abzumelden, sodass Sie sich erst nach Ablauf der Sitzung wieder anmelden könnten. Wenn Sie diese Einstellung nicht benötigen, können Sie sie deaktivieren.
So legen Sie die voreingestellte Benutzeroberflächensprache für Ihre Kunden fest:
Gehen Sie zu Tools & Einstellungen > Sprachen (in der Gruppe Plesk Erscheinungsbild).
Wählen Sie das Kontrollkästchen bei der Oberflächensprache aus, die als Standard für neue Plesk Benutzer festgelegt wird und klicken Sie auf Als Standard verwenden.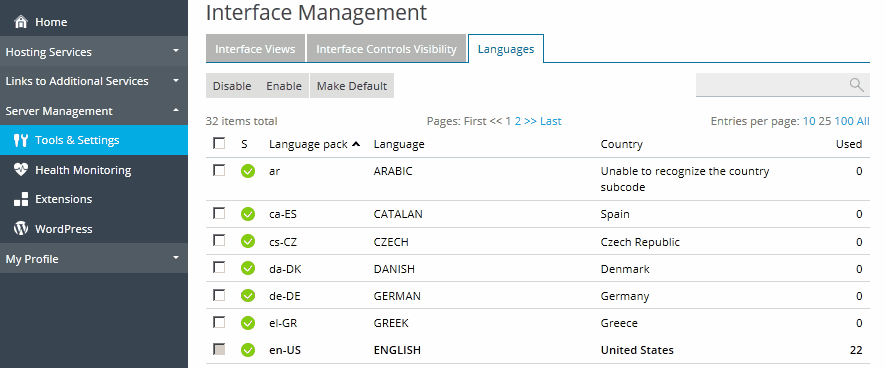 ---
Leave your feedback on this topic here
If you have questions or need support, please visit the Plesk forum or contact your hosting provider.
The comments below are for feedback on the documentation only. No timely answers or help will be provided.