Managing IP Addresses
Operator: <ip>
XML Schema: ip_input.xsd, ip_output.xsd
Plesk version: all versions
XML API version: all versions
Plesk user: Plesk Administrator, resellers (they can only retrieve a list of their IP addresses)
Description
The ip operator is used to manage IP addresses available on the Plesk's server. In Plesk, IP addresses can be shared or exclusive. Exclusive IP address can be assigned to a single customer, while shared IP address can be shared among several customer accounts. SSL/TLS protection with authentic digital certificates and Anonymous FTP services are available only to sites hosted on exclusive IP addresses.
Supported operations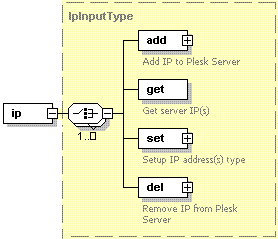 ---
Leave your feedback on this topic here
If you have questions or need support, please visit the Plesk forum or contact your hosting provider.
The comments below are for feedback on the documentation only. No timely answers or help will be provided.