Idioma del interfaz del administrador
Para cambiar el idioma del interfaz y otras opciones de su Plesk:
Haga clic en el vínculo Perfil y preferencias en el panel de navegación.
Especifique lo siguiente:

Idioma del interfaz del administrador. Seleccione el idioma para su Plesk.
Skin del interfaz del administrador. Seleccione un tema personalizado de la lista de temas disponibles en Plesk.SI desea más información sobre los temas, vaya a Personalización y temas.
Permitir múltiples sesiones debajo del acceso del administrador. Por omisión, Plesk permite múltiples sesiones simultáneas para varios usuarios conectados a Plesk que usen la misma combinación de nombre de usuario y contraseña. Esto puede serle útil para delegar funciones de gestión a otros usuarios o en caso de que cierre el navegador accidentalmente sin cerrar la sesión, lo que le impediría volver a iniciar sesión hasta que expirara su sesión. Puede desactivar esta habilidad en caso que no la necesite.
Para seleccionar el idioma predeterminado del interfaz para sus clientes:
Vaya a Herramientas y configuración > Idiomas (en el grupo Apariencia de Plesk).
Seleccione la casilla correspondiente al idioma que desea establecer como idioma predeterminado para los usuarios nuevos de Plesk y haga clic en Hacer predeterminado.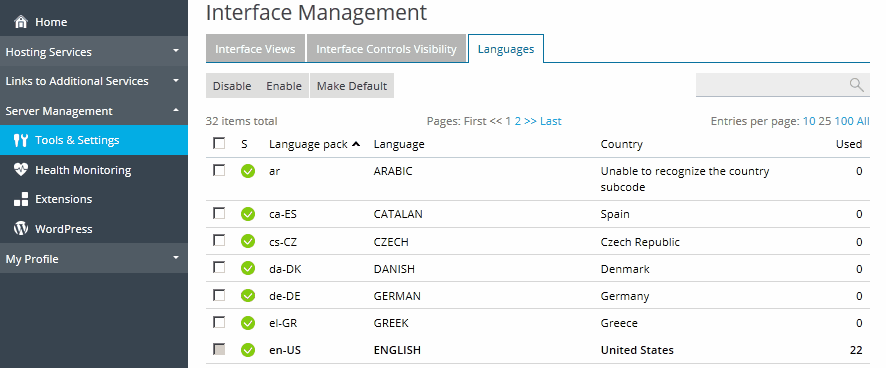 ---
Leave your feedback on this topic here
If you have questions or need support, please visit the Plesk forum or contact your hosting provider.
The comments below are for feedback on the documentation only. No timely answers or help will be provided.