Prévisualiser des sites Web
Lorsqu'un site Web est créé, il n'est pas immédiatement accessible sur Internet. Lorsque vous avez enregistré un nom de domaine ou modifié l'adresse IP de votre site Web, la propagation DNS doit être terminée avant que les internautes ne puissent visiter votre site. Ce processus peut prendre 24 à 48 heures. Toutefois, Plesk vous permet de naviguer sur votre site dès sa publication à l'aide de la fonction Aperçu.
Pour prévisualiser un site :
Allez dans Sites Web & Domaines.
Cliquez sur Aperçu sous le nom de domaine du site Web que vous voulez prévisualiser.
Votre site Web s'ouvre dans une nouvelle fenêtre ou un nouvel onglet du navigateur. Vous pouvez partager ce lien de prévisualisation avec d'autres utilisateurs : il fonctionne où que vous soyez dans le monde.
Si le bouton Aperçu du site n'est pas affiché sur la page Sites Web & domaines, contactez votre hébergeur.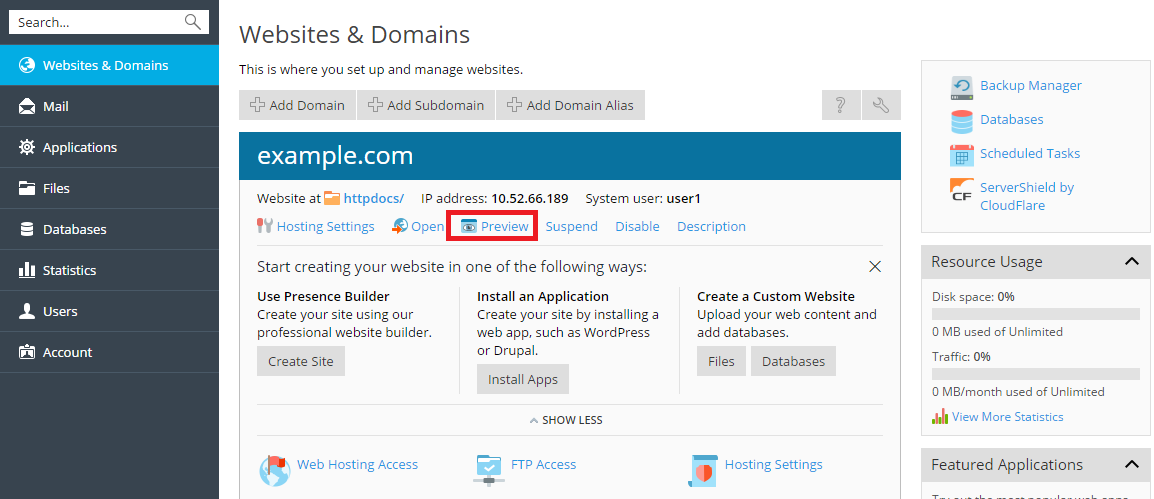 ---
Leave your feedback on this topic here
If you have questions or need support, please visit the Plesk forum or contact your hosting provider.
The comments below are for feedback on the documentation only. No timely answers or help will be provided.