Registri e statistiche
Questi parametri (che si trovano nella scheda Piani di servizio > seleziona un piano > Log e Statistiche) definiscono il modo in cui le statistiche e i log dell'abbonamento devono essere memorizzati.
Nota: Queste impostazioni negli abbonamenti non sono sincronizzati con i piani di servizi.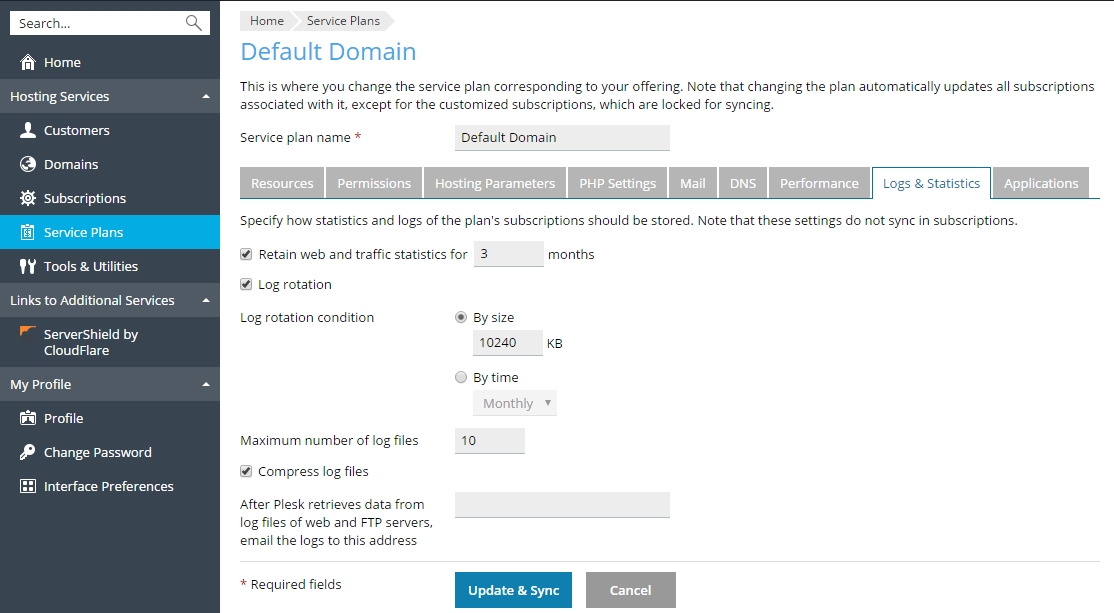 Conservare le statistiche web e del traffico
Definisce un periodo (in mesi) durante il quale i rapporti relativi alle statistiche web dell'abbonamento (generate dal componente di statistiche web selezionato) e le statistiche sul traffico (generate da Plesk) devono essere disponibili.
Nota: L'impostazione Conserva statistiche web e del traffico non viene modificata negli abbonamenti quando si aggiorna per un piano di servizio. L'unico modo di aggiornare questa impostazione per ogni dominio è cambiarla nel database di Plesk. Per ulteriori informazioni, consulta questo articolo della Base di conoscenza.
Rotazione log
Abilita la pulizia e il riciclaggio automatici dei file di registro del server web. È anche possibile attivare la compressione dei file di registro elaborati ed inviarli ad un indirizzo email specifico.
---
Leave your feedback on this topic here
If you have questions or need support, please visit the Plesk forum or contact your hosting provider.
The comments below are for feedback on the documentation only. No timely answers or help will be provided.