Ausführen von Rake-Aufgaben
Sie können mithilfe des Dienstprogramms rake zahlreiche Wartungsaufgaben ausführen. Weitere Informationen finden Sie unter http://docs.seattlerb.org/rake/. Anwendungsbeispiele von Rake-Aufgaben sind die Erstellung einer Datenbankstruktur oder das Füllen einer Datenbank mit Testdaten.
Diese Funktion ist verfügbar, wenn die Anwendung eine Rakefile-Datei enthält, in der die verfügbaren Rake-Aufgaben beschrieben werden. Weitere Details finden Sie in der Dokumentation zum Rakefile-Format. Es ist empfehlenswert, das Rake-Gem in einer Gemfile aufzulisten.
Gehen Sie zu Websites & Domains und klicken Sie auf Ruby. Führen Sie nach der Gem-Installation eine Rake-Aufgabe aus, indem Sie auf Rake-Aufgabe ausführen klicken. Ein Dialogfeld wird geöffnet. Geben Sie Parameter an und klicken Sie auf OK. Dies entspricht dem Ausführen des Dienstprogramms rake mit den Parametern in der Befehlszeile.
Geben Sie zum Beispiel -T ein und klicken Sie auf OK, um eine Liste der verfügbaren Aufgaben anzuzeigen. Dies entspricht dem Befehl rake -T.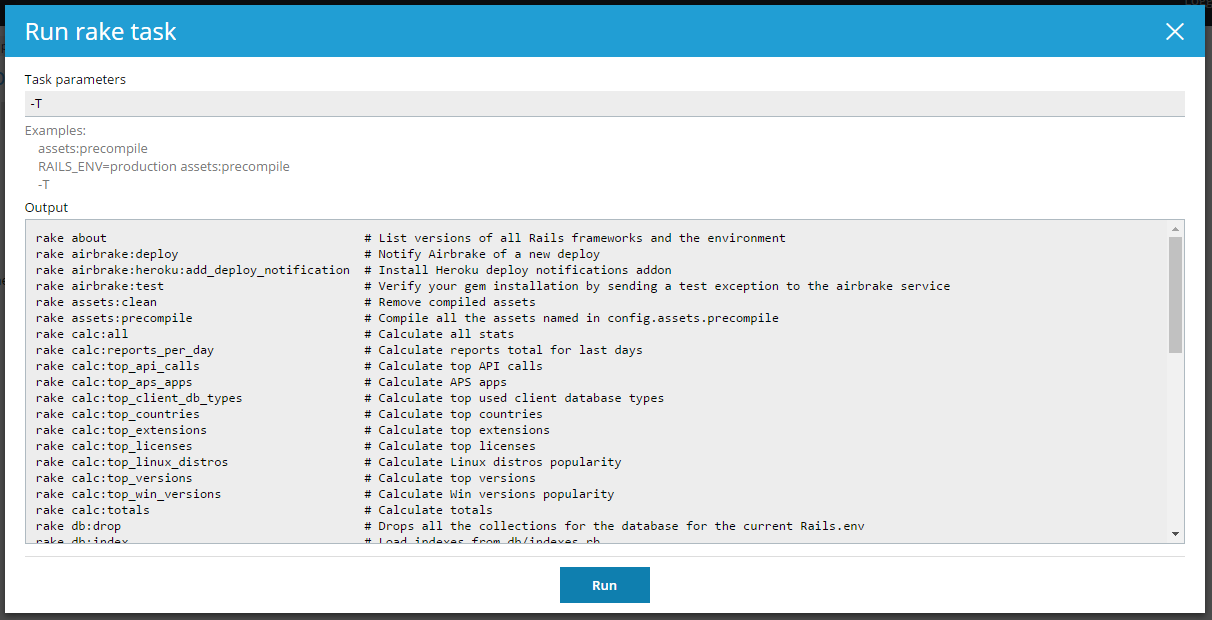 Um eine bestimmte Aufgabe, zum Beispiel about, auszuführen, verwenden Sie den Aufgabennamen als Parameter. Dies entspricht der Ausführung des Befehls rake about.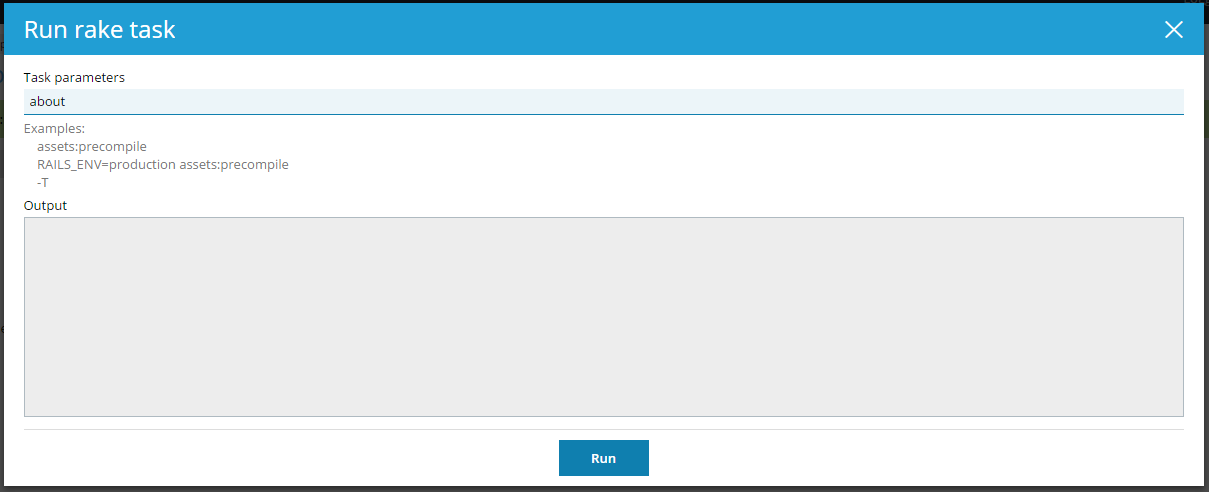 Weitere Beispiele für Rake-Befehle:
Um die Standardaufgabe auszuführen, geben Sie im Rake-Dienstprogramm keine Parameter an: rake.
Um eine Aufgabe mit Umgebungsvariablen auszuführen, geben Sie die Werte der Variablen im Format [Variable=Wert] vor dem Namen der Aufgabe an: rake RAILS_ENV=production SECRET_KEY_BASE=my-secret-key about.
Um eine Aufgabe mit Parametern auszuführen, geben Sie den Wert der Parameter in eckigen Klammern an: rake assets:clean[1].
Wenn Sie alle verfügbaren rake-Optionen anzeigen möchten, verwenden Sie die Option -h: rake -h.
---
Leave your feedback on this topic here
If you have questions or need support, please visit the Plesk forum or contact your hosting provider.
The comments below are for feedback on the documentation only. No timely answers or help will be provided.