Rake-taken uitvoeren
U kunt verschillende onderhoudstaken uitvoeren met behulp van het hulpprogramma rake (u vindt meer informatie op http://docs.seattlerb.org/rake/). Voorbeelden van Rake-taken zijn het aanmaken van een database-structuur of het vullen van een database met testgegevens.
Deze functionaliteit is beschikbaar als de applicatie beschikt over een Rakefile waarin de Rake-taken zijn beschreven (zie voor details de documentatie over de Rakefile-notatie). Het is een goed gebruik om de 'rake-gem' op te nemen in een Gemfile.
Ga naar Websites & domeinen en klik  Ruby. Na de installatie van gems kunt u proberen een Rake-taak uit te voeren door te klikken op  Rake-taak uitvoeren. In het dialoogvenster dat wordt geopend kunt u bepaalde parameters opgeven OK - dit doet hetzelfde als het hulpprogramma rake met in de opdrachtregel met dezelfde parameters.
Om bijvoorbeeld de lijst met beschikbare taken te bekijken, geeft u -T op en u klikt op OK (dit is de equivalent van het opgeven van de opdracht rake -T).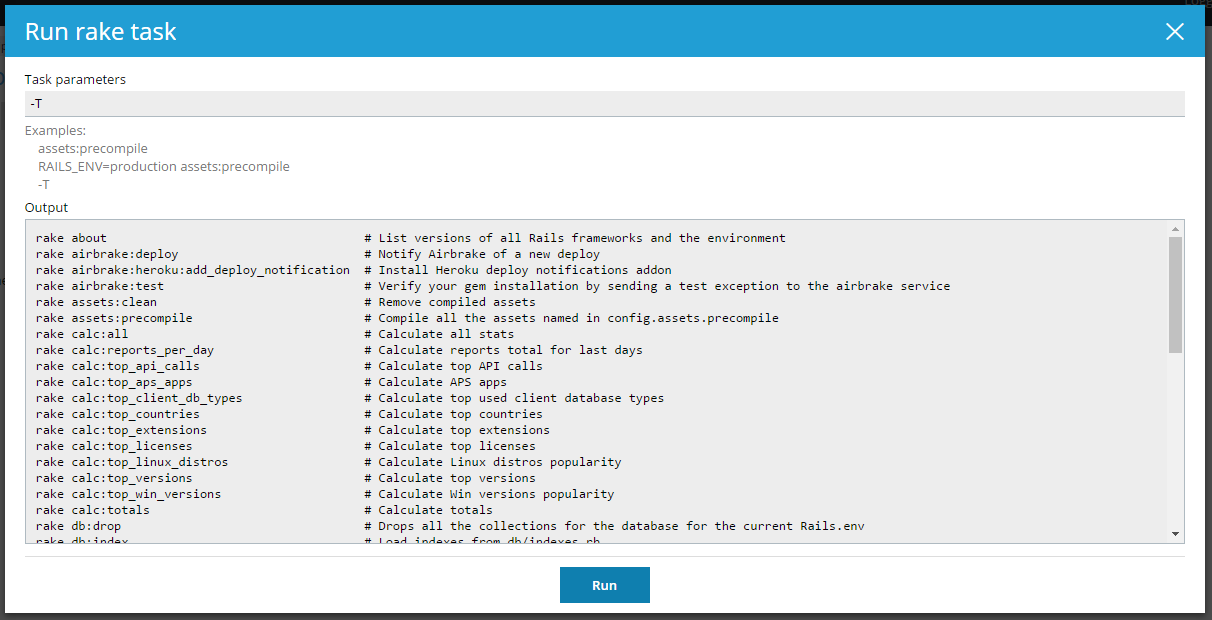 Om een specifieke taak uit te voeren (bijvoorbeeld about), gebruikt u de naam van de taak als naam van een parameter (dit is de equivalent van het uitvoeren van rake about).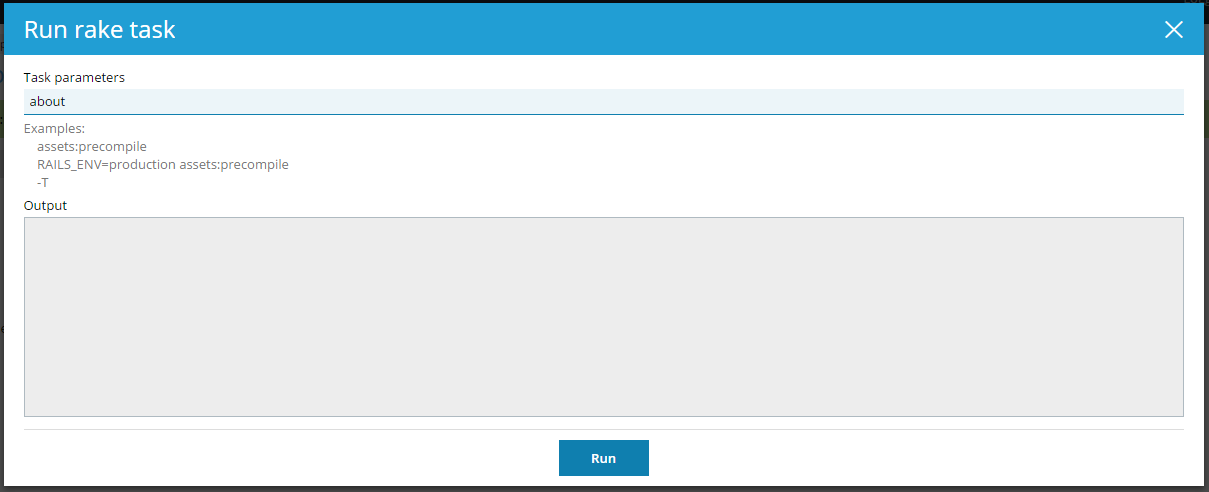 Meer voorbeelden van Rake-opdrachten:
Om een standaardtaak uit te voeren voert u rake uit zonder parameters: rake.
Om een taal uit te voeren met omgevingsvariabelen geeft u de waarden van de variabelen op in de notatie [variabele=waarde] vóór de naam van de taak: rake RAILS_ENV=production SECRET_KEY_BASE=mijn-geheime-sleutel about.
Om een taak uit te voeren met parameters geeft u de waarde van de parameters op tussen rechte haakjes: rake assets:clean[1].
Voor een lijst met alle beschikbare rake-opties gebruikt u de optie -h: rake -h.
---
Leave your feedback on this topic here
If you have questions or need support, please visit the Plesk forum or contact your hosting provider.
The comments below are for feedback on the documentation only. No timely answers or help will be provided.