Managing External Webmail Services
Operator: <webmail>. Deprecated since 1.6.3.1 XML-RPC protocol version.
XML Schema: webmail.xsd
Plesk version: the Panel 10
API RPC version: 1.6.3.1
Plesk user: Administrator
Description
You can install on the server a number of webmail software packages and select which of them should be available to your users. Alternately, you can redirect your users to an external webmail service. To do this, register an external webmail service address with the Panel by adding a corresponding record.
Supported operations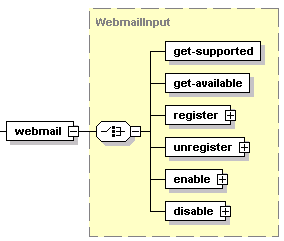 ---
Leave your feedback on this topic here
If you have questions or need support, please visit the Plesk forum or contact your hosting provider.
The comments below are for feedback on the documentation only. No timely answers or help will be provided.