Managing Mailing Lists
Operator: <maillist>. Deprecated since 1.4.2.0 XML-RPC protocol version.
XML Schema: maillist.xsd
Plesk version: all versions
API RPC version: 1.6.3.0 and higher
Plesk user: Administrator, customer
Description
The maillist operator is designed for managing mailing lists on sites. Each mailing list can be enabled or disabled. If it is disabled, the messages from mailing list owner will not be sent to subscribers. The mailing service (managing all mailing lists on a site) can be activated or deactivated. If it is deactivated, all messages from all mailing list owners of a specified site will not be sent to subscribers.
Mailing lists are provided by the GNU Mailman software. Before using the operator, make sure that the specified software is installed on your Plesk server.
Each mailing list should have unique name parameter. The e-mail address that is used for messages delivery to subscribers looks as follows: name@site. The name of the mailing list cannot be changed.
Supported operations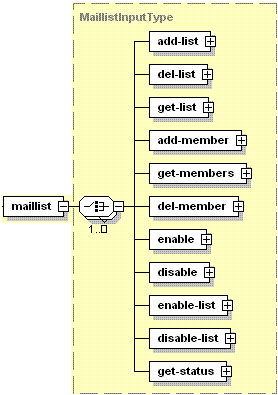 ---
Leave your feedback on this topic here
If you have questions or need support, please visit the Plesk forum or contact your hosting provider.
The comments below are for feedback on the documentation only. No timely answers or help will be provided.