Managing Sites (Domains)
Operator: <site>. Deprecated in 1.6.3.0 XML-RPC protocol version.
XML Schema: site.xsd
Plesk version: the Panel 10
API RPC version: 1.6.3.0 and higher
Plesk user: Administrator, Customer
Description
A hosting subscription can have one or more websites. A website or simply a site is a collection of related web pages, images, videos, and other files that are accessible by a common domain name. With this operator, you can create new sites, adjust their settings (security, web scripting, DNS, etc.), change hosting type, and perform other operations on sites.
Supported operations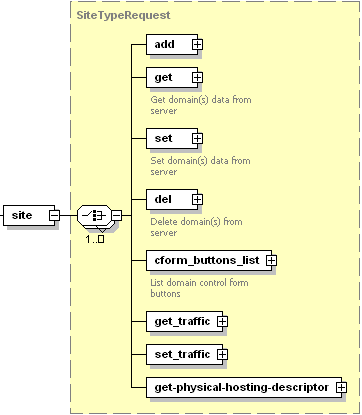 ---
Leave your feedback on this topic here
If you have questions or need support, please visit the Plesk forum or contact your hosting provider.
The comments below are for feedback on the documentation only. No timely answers or help will be provided.