Managing User Interface (Custom Buttons)
Operator: <ui>. Deprecated in 1.3.5.1-1.6.3.4 XML-RPC protocol versions.
XML Schema: ui_input.xsd, ui_output.xsd, plesk_custom_buttons.xsd
Plesk version: Plesk 7.5.3 for Unix and later | Plesk 7.5 for Windows
API RPC version: 1.3.5.0 and higher
Plesk user: Plesk Administrator
Description
A custom button is a shortcut to Plesk Web application or to an external or internal web page. It consists of an icon and a hyperlink. The ui operator serves for managing custom buttons. The operator also allows Plesk Administrators to customize graphical user interface of Plesk, so that Administrator defines what controls – buttons, icons, options and so on – should be visible or not to which Plesk users.
Supported operations: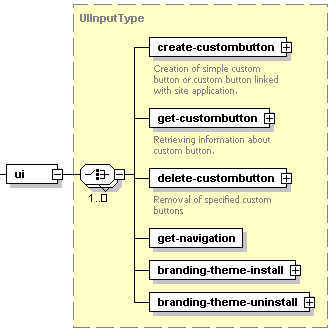 ---
Leave your feedback on this topic here
If you have questions or need support, please visit the Plesk forum or contact your hosting provider.
The comments below are for feedback on the documentation only. No timely answers or help will be provided.