Managing Virtual Directories
Operator: <virtdir>. Deprecated in 1.4.2.0-1.6.5.0 XML-RPC protocol versions.
XML Schema: virtdir.xsd
Plesk version: Plesk 7.6.1 and later for Windows
XML API version: 1.4.1.1 and higher
Plesk user: Plesk Administrator
Description
Virtual directories are supported in Plesk 7.6.1 (and later) for Windows only. In brief, this feature provides customers with the opportunity to map the contents of a definite physical folder of the site to a virtual directory (which is being created at that moment). The resulting virtual directory becomes an independent item, and obtains various settings, including access permissions, properties of a web application, SSL/TLS support, logging, and others.
Virtual directories can be created for an existing physical directory of the site. The path of this physical directory is specified in the create command sent to Plesk. If the specified directory does not exist, it will be created on the virtual host by the specified path.
Supported operations: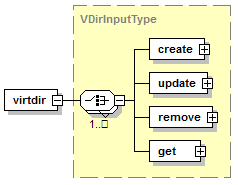 All operations are performed by sending XML packets with the <virtdir> operator (defined in virtdir.xsd).
---
Leave your feedback on this topic here
If you have questions or need support, please visit the Plesk forum or contact your hosting provider.
The comments below are for feedback on the documentation only. No timely answers or help will be provided.