Directiva de controladores personalizada
Por defecto, los controladores IIS definidos en los archivos web.config de los clientes invalidan aquellos definidos a nivel del servidor web.Puede prohibir a los clientes invalidar los controladores mediante los archivos web.config. Para ello, vaya a Herramientas y configuración > Directiva de seguridad y seleccione Prohibir la habilidad para invalidar controladores mediante web.config.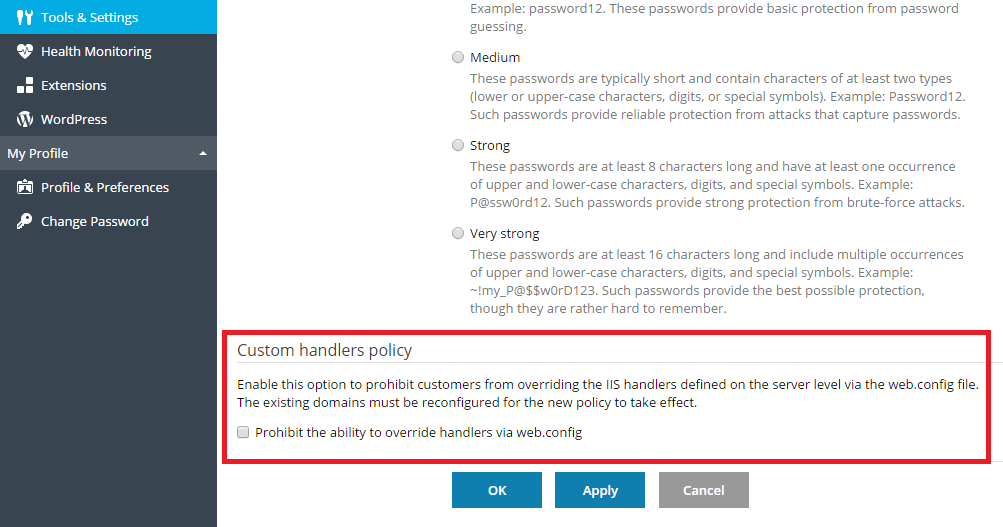 Tenga en cuenta lo siguiente:
De seleccionar esta opción, se aumentará la seguridad, si bien esto puede afectar al funcionamiento de las aplicaciones de algunos clientes.
Esta opción sólo afectará a los dominios nuevos. Para que se aplique la nueva directiva deberá volver a configurar los dominios existentes.
---
Leave your feedback on this topic here
If you have questions or need support, please visit the Plesk forum or contact your hosting provider.
The comments below are for feedback on the documentation only. No timely answers or help will be provided.