Politica personalizzata gestori
Per impostazione predefinita, i gestori IIS definiti nei file web.config dei clienti sovrascrivono quelli definiti a livello di server web. Puoi impedire ai clienti di ignorare i gestori tramite i file web.config. Accedi a Strumenti e impostazioni > Norme di sicurezza e seleziona Proibisci la capacità di sovrascrivere i gestori tramite web.config.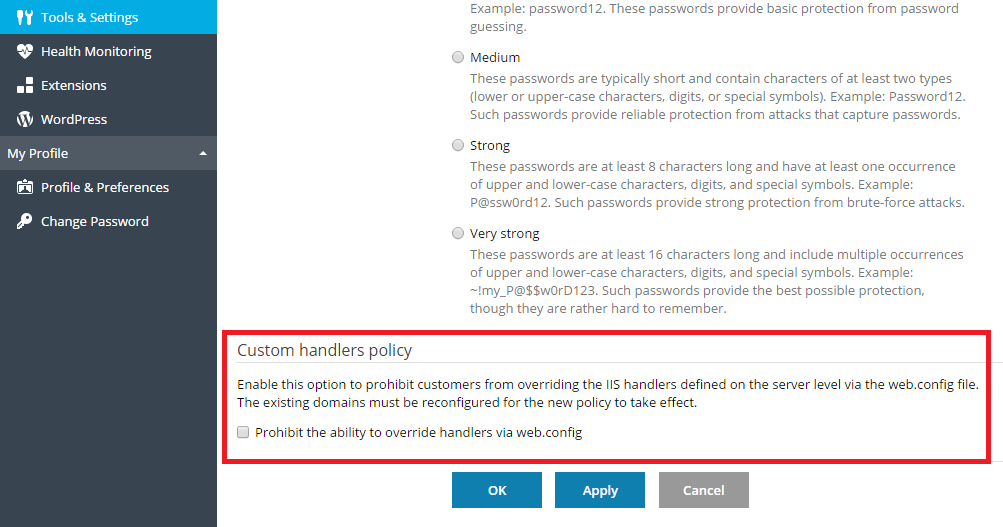 È importante notare quanto segue:
Attivando questa opzione si aumenta la sicurezza, ma ciò può influire sul funzionamento di alcune applicazioni del cliente.
L'opzione ha effetto esclusivamente sui domini appena creati. Per applicare il nuovo criterio è necessario riconfigurare i domini esistenti.
---
Leave your feedback on this topic here
If you have questions or need support, please visit the Plesk forum or contact your hosting provider.
The comments below are for feedback on the documentation only. No timely answers or help will be provided.