Richtlinie zu benutzerdefinierten Handlern
Standardmäßig werden die ISS-Handler, die auf Webserverebene definiert sind, von den Handlern überschrieben, die in den web.config-Dateien des Kunden definiert sind. Sie können verhindern, dass Kunden Handler über die Dateien web.config außer Kraft setzen. Gehen Sie zu Tools & Einstellungen > Sicherheitsrichtlinien und wählen Sie Handler können nicht via web.config überschrieben werden aus.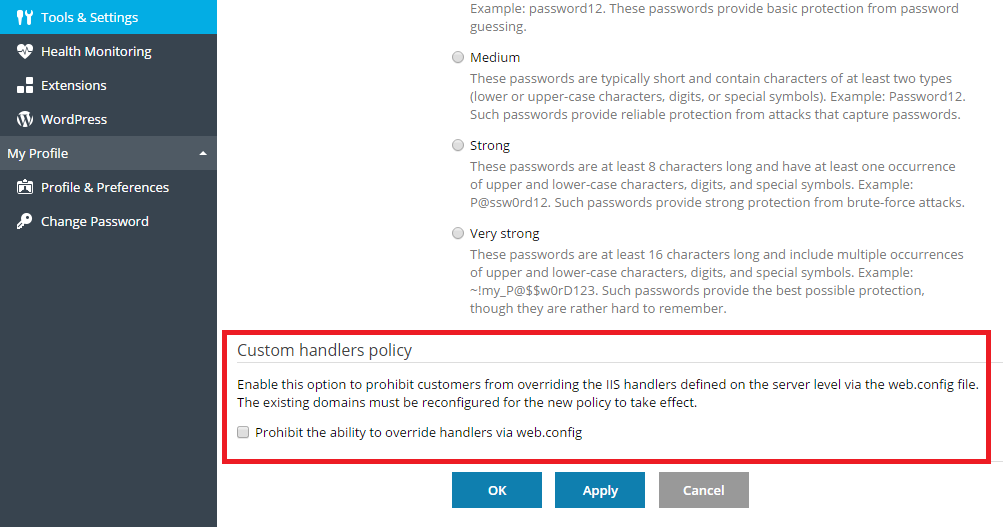 Beachten Sie Folgendes:
Wenn Sie diese Option auswählen, wird zwar die Sicherheit erhöht, es kann jedoch auch zu Beeinträchtigungen in den Anwendungen Ihrer Kunden kommen.
Diese Option wirkt sich nur auf neu erstellte Domains aus. Die Konfiguration von vorhandenen Domains muss angepasst werden, damit diese neue Richtlinie in Kraft tritt.
---
Leave your feedback on this topic here
If you have questions or need support, please visit the Plesk forum or contact your hosting provider.
The comments below are for feedback on the documentation only. No timely answers or help will be provided.