Registros y estadísticas
Estos parámetros (presentes en Planes de servicio > seleccionar un plan > pestaña Registros y estadísticas) definen cómo deberían almacenarse las estadísticas y registros de una suscripción.
Nota: estas opciones en las suscripciones no se sincronizan con los planes de servicio.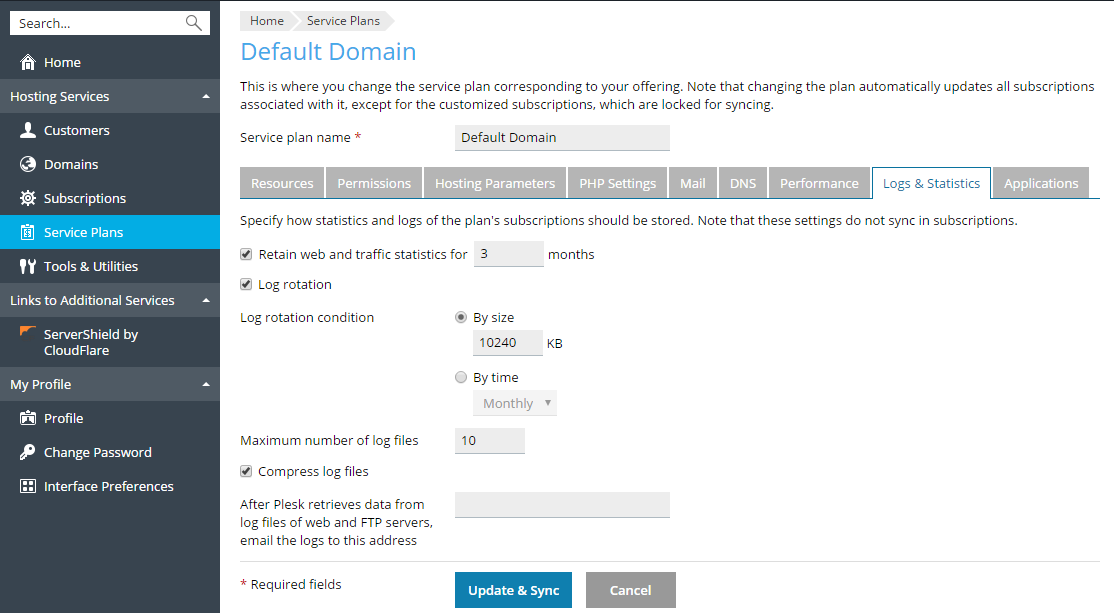 Conservación de estadísticas de tráfico y web
Establece el periodo (en meses) durante el cual se conservarán las estadísticas web (generadas por el componente de estadísticas web seleccionado) y las estadísticas de tráfico (generadas por Plesk) de la suscripción.
Nota: la opción Conservar estadísticas de tráfico y web no se modifica en las suscripciones cuando usted la actualiza para un plan de servicio. La única forma de actualizar esta opción para cada dominio es modificarla en la base de datos de Plesk. Para más información, consulte este artículo de nuestra base de conocimiento.
Rotación de registros
Permite limpiar y reciclar archivos de registro del servidor web de forma automática. También puede activar la compresión de los archivos de registro procesados y enviarlos a una dirección de email específica.
---
Leave your feedback on this topic here
If you have questions or need support, please visit the Plesk forum or contact your hosting provider.
The comments below are for feedback on the documentation only. No timely answers or help will be provided.