Acceso a Plesk por primera vez
Una vez completada la instalación mediante el autoinstaller de Plesk, se le proporcionará una URL a través de la que podrá iniciar sesión una sola vez que contiene un token de sesión. A través de esta URL accederá automáticamente a Plesk. Seleccione el idioma de interfaz deseado, cambie su contraseña y acceda a Plesk con la nueva contraseña.
Acceso a Plesk
Para acceder a Plesk, abra su navegador web y vaya a la dirección siguiente:
https

://<

nombre

-

del

-

host

-

o

-

IP

>:

8443
Se abrirá la página de acceso a Plesk.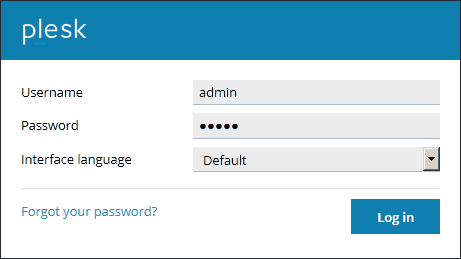 Indique su nombre de usuario y contraseña para acceder a Plesk. Por omisión, su nombre de usuario es admin, si bien puede cambiarlo si Plesk fue instalado anteriormente por un tercero. Asimismo, puede acceder a Plesk introduciendo el nombre de usuario root (en Linux), o administrator (en Windows), y la contraseña correspondiente.
Nota: puede desactivar el inicio de sesión a Plesk con las credenciales root o administrator añadiendo las líneas que puede ver a continuación al archivo panel.ini.
Para desactivar el inicio de sesión en Plesk con las credenciales root:
[

login

]




systemAdmin

 

=

 

false
---
Leave your feedback on this topic here
If you have questions or need support, please visit the Plesk forum or contact your hosting provider.
The comments below are for feedback on the documentation only. No timely answers or help will be provided.