Accedere a Plesk per la prima volta
Una volta installato correttamente il software tramite l'autoinstaller Plesk, viene fornito un URL di accesso per un solo utilizzo che contiene il token di sessione. Utilizza l'URL per accedere automaticamente a Plesk. Seleziona la lingua desiderata per l'interfaccia, modifica la password e accedi a Plesk con una nuova password.
Accedere a Plesk
Per accedere a Plesk, vai sul tuo browser e apri il seguente indirizzo:
https

://<

nome

 

o

 

IP

 

host

>:

8443
Si aprirà la pagina di accesso di Plesk.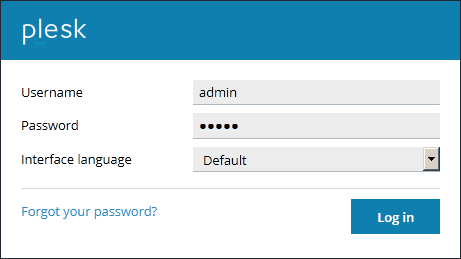 Digita il tuo nome utente e la password per accedere a Plesk. Per impostazione predefinita, il tuo nome utente è admin, ma potrebbe essere cambiato se Plesk era stato preinstallato da terze parti. Altrimenti, è possibile effettuare l'accesso a Plesk mediante il nome utente root (su Linux) o il nome utente administrator (su Windows) e la password corrispondente.
Nota: puoi disabilitare l'accesso a Plesk con le credenziali root o administrator aggiungendo la riga di seguito al file panel.ini.
Per disabilitare l'accesso a Plesk con le credenziali root:
[

login

]




systemAdmin

 

=

 

false
---
Leave your feedback on this topic here
If you have questions or need support, please visit the Plesk forum or contact your hosting provider.
The comments below are for feedback on the documentation only. No timely answers or help will be provided.