Configuración de scripting web
Para cada sitio web en su suscripción puede activar el soporte para los siguientes lenguajes de scripting y programación:
Active Server Pages (ASP)
Microsoft ASP.NET (Hosting Windows)
Server Side Includes (SSI) (Hosting Linux)
Procesador de hipertexto PHP ()
Common Gateway Interface (CGI)
Fast Common Gateway Interface (FastCGI) (Hosting Linux)
Perl
Python
Para activar el soporte para un determinado lenguaje de scripting, vaya a Sitios web y dominios > Configuración de hosting, seleccione las casillas junto a los lenguajes de scripting deseados y haga clic en ACEPTAR. Si no puede ver el enlace de Configuración de hosting, póngase en contacto con su proveedor.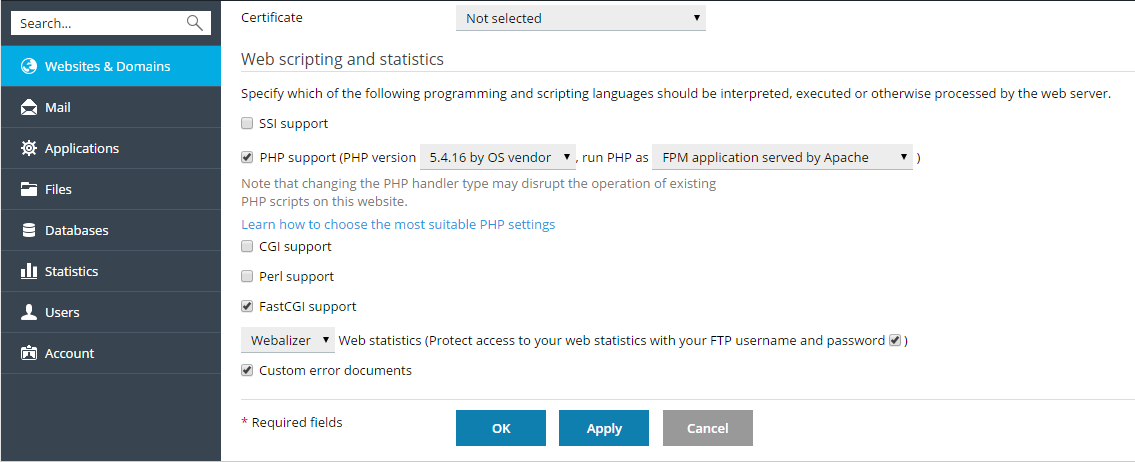 A partir de Plesk 10.4 puede configurar los parámetros PHP de forma individualizada para cada sitio web (o subdominio) de su suscripción. Si desea más información acerca de la configuración personalizada de PHP, consulte la sección Configuración PHP.
---
Leave your feedback on this topic here
If you have questions or need support, please visit the Plesk forum or contact your hosting provider.
The comments below are for feedback on the documentation only. No timely answers or help will be provided.