Instellingen voor webscripting
Voor elke website binnen uw abonnement kunt u ondersteuning voor de volgende programmeer- en scripttalen inschakelen:
Active Server Pages (ASP)
Microsoft ASP.NET (Windows-hosting)
Server Side Includes (SSI) (Linux-hosting)
PHP hypertext preprocessor (PHP)
Common Gateway Interface (CGI)
Fast Common Gateway Interface (FastCGI) (Linux-hosting)
Perl
Python.
Om de ondersteuning voor een specifieke scripttaal in te schakelen gaat u naar Websites & domeinen > Hosting-instellingen, en u selecteert de selectievakjes voor de juiste scripttalen. Klik tenslotte op OK. Als u geen knop met link Hosting-instellingen, neem dan contact op met uw hostingprovider.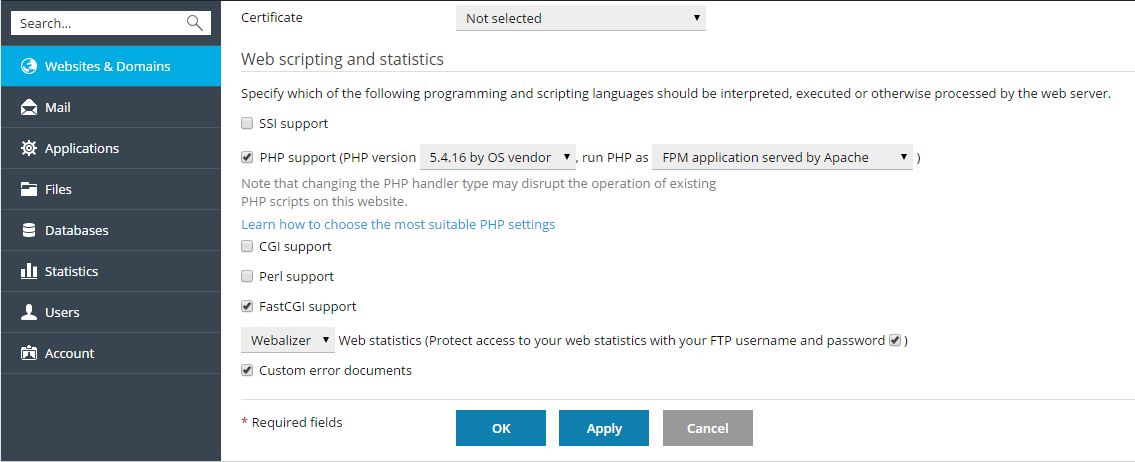 Vanaf Plesk 10.4 kunt u de PHP-instellingen voor elke website (en elk subdomein) in uw abonnement afzonderlijk opgegeven. Voor meer details over aangepaste PHP-configuraties, zie de sectie PHP-instellingen.
---
Leave your feedback on this topic here
If you have questions or need support, please visit the Plesk forum or contact your hosting provider.
The comments below are for feedback on the documentation only. No timely answers or help will be provided.