Ejecución de tareas de Rake
Para realizar distintas tareas de mantenimiento, puede usar la utilidad rake. Si desea más información sobre esta utilidad, visite http://docs.seattlerb.org/rake/. Un ejemplo de tarea de Rake puede ser la creación de la estructura de una base de datos o la inserción de datos de prueba en una base de datos.
Esta funcionalidad sólo estará disponible si la aplicación contiene un Rakefile que describe las tareas de Rake disponibles. Para más información al respecto, consulte la documentación. Una buena práctica puede ser disponer de un gem 'rake' en un Gemfile.
Vaya a Sitios web y dominios y haga clic en  Ruby. Una vez instalados los gems, puede probar a ejecutar una tarea de Rake haciendo clic en  Ejecutar tarea de Rake. En el diálogo resultante puede especificar algunos parámetros y hacer clic en ACEPTAR, lo que sería el equivalente a ejecutar la utilidad rake con los parámetros indicados en la línea de comandos.
Por ejemplo, para ver la lista de tareas disponibles, indique -T y haga clic en ACEPTAR, lo que sería el equivalente a ejecutar el comando rake -T.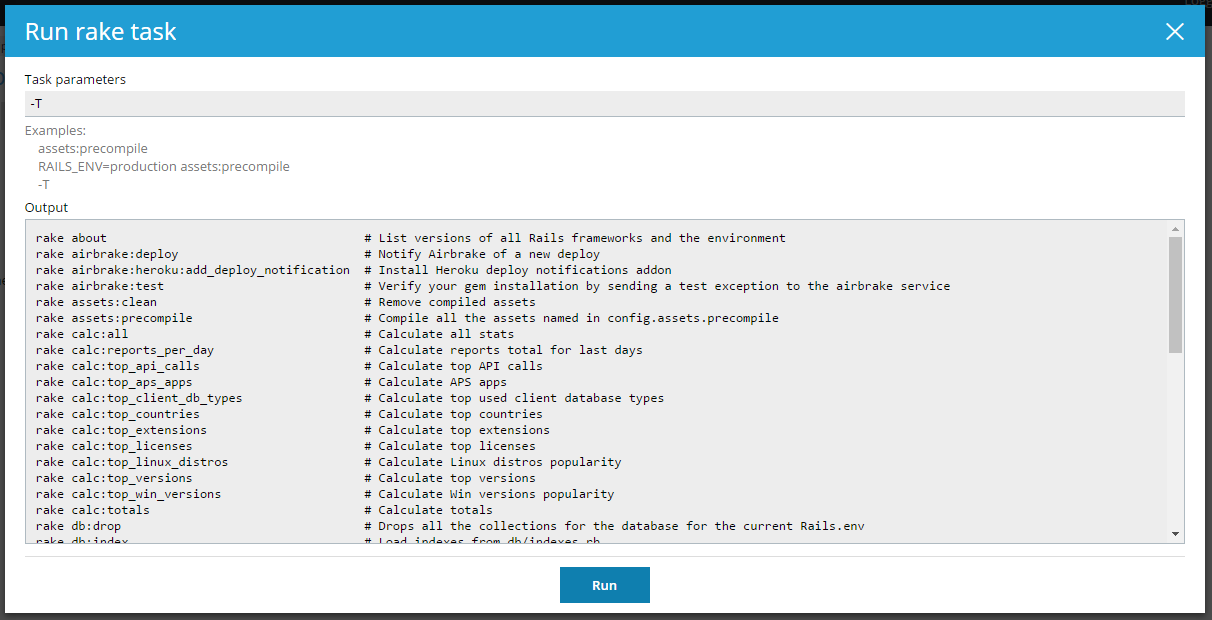 Para ejecutar una tarea determinada, como por ejemplo about, use el nombre de la tarea como parámetro, lo que sería el equivalente a ejecutar el comando rake about.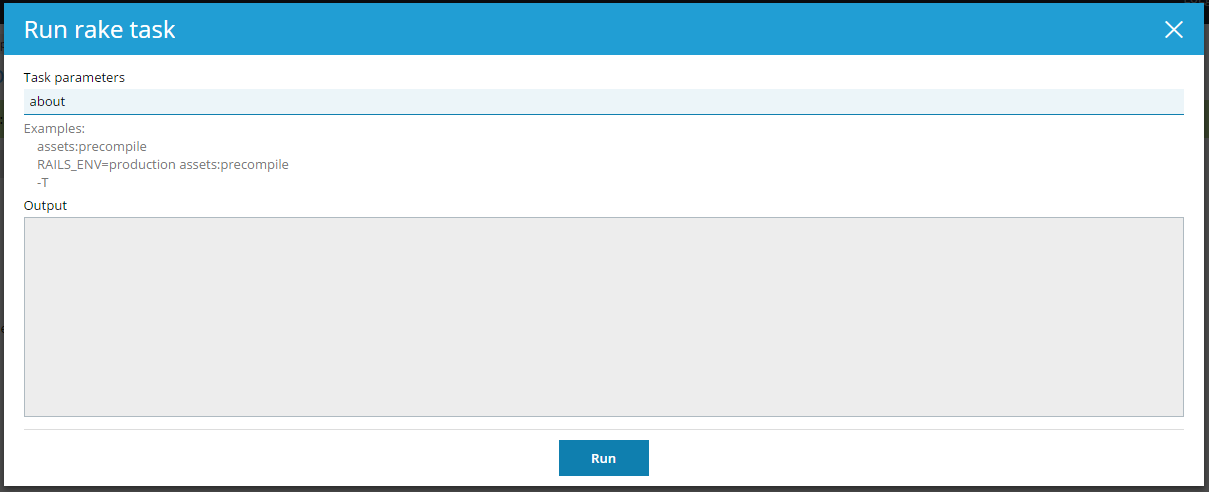 Otros ejemplos de comandos Rake:
Si desea ejecutar una tarea predeterminada, ejecute la utilidad Rake sin ningún parámetro: rake.
Si desea ejecutar una tarea con variables de entorno, especifique los valores de las variables como [variable=value] antes del nombre de la tarea: rake RAILS_ENV=production SECRET_KEY_BASE=my-secret-key about.
Si desea ejecutar una tarea con parámetros, especifique el valor de los parámetros entre corchetes: rake assets:clean[1].
Si desea ver la lista de todas las opciones rake disponibles, utilice la opción -h: rake -h.
---
Leave your feedback on this topic here
If you have questions or need support, please visit the Plesk forum or contact your hosting provider.
The comments below are for feedback on the documentation only. No timely answers or help will be provided.