Visualización del resumen de una suscripción
Cuando usted se suscribe a servicios de hosting, se crea una cuenta de usuario en Plesk para que usted pueda administrar sus sitios web y buzones de correo por sí mismo.
Puede consultar la siguiente información acerca de su cuenta:
Suscripciones actuales a planes de servicio.

Usted puede estar suscrito a múltiples planes de servicio a la vez y, por este motivo, disponer de múltiples suscripciones asociadas a su cuenta.

Recursos asignados y consumidos.
Prestaciones de hosting disponibles para sus sitios web.
Operaciones que puede realizar en su Plesk.
Si desea consultar la información de su cuenta y sus suscripciones actuales:
Vaya a Cuenta.
Para ver los recursos, las opciones de hosting o los permisos, abra la pestaña correspondiente:

Para ver una lista de los recursos asignados y consumidos, haga clic en la pestaña Recursos.
Para ver una lista de las prestaciones de hosting disponibles para su cuenta, haga clic en la pestaña Opciones de hosting.
Para ver una lista de las operaciones que puede realizar en su panel de hosting, haga clic en la pestaña Permisos.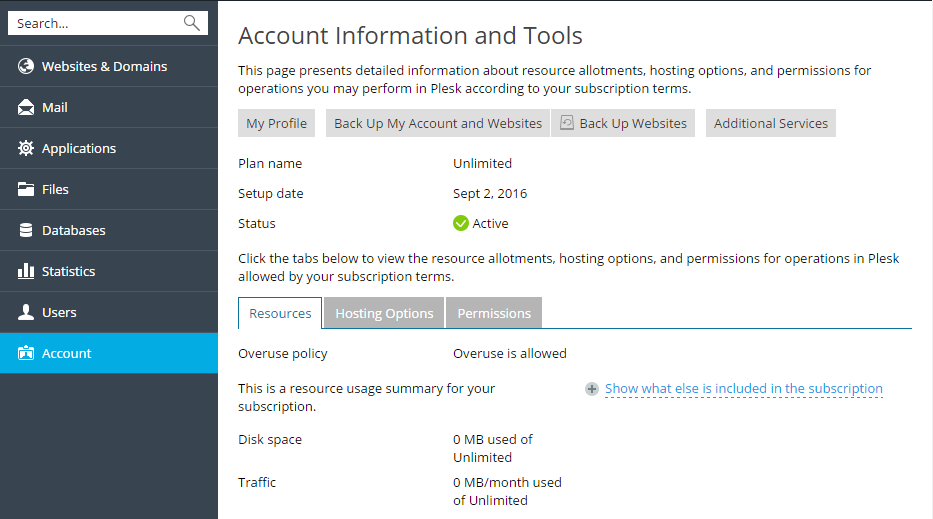 ---
Leave your feedback on this topic here
If you have questions or need support, please visit the Plesk forum or contact your hosting provider.
The comments below are for feedback on the documentation only. No timely answers or help will be provided.