Impostazioni di scripting web
Per ogni sito web nel tuo abbonamento puoi attivare il supporto per i seguenti linguaggi di scripting e di programmazione:
Active Server Pages (ASP)
Microsoft ASP.NET (hosting Windows)
Server Side Includes (SSI) (Hosting Linux)
Processore d'ipertesto PHP (PHP)
Common Gateway Interface (CGI)
Fast Common Gateway Interface (FastCGI) (Hosting Linux)
Perl
Python.
Per attivare il supporto per un particolare linguaggio di scripting, vai su Siti web e domini> Impostazioni di Hosting, seleziona le caselle di controllo vicino ai linguaggi di programmazione necessari e fai clic su OK. Se non venisse mostrato il link Impostazioni di hosting, contattare il provider di hosting.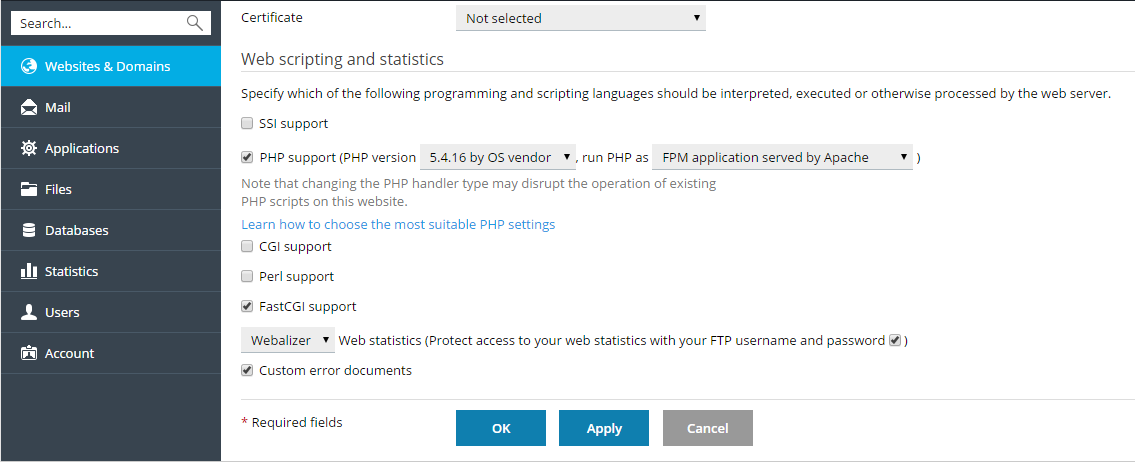 A partire da Plesk 10.4, si possono configurare le impostazioni PHP individualmente per ogni sito web (o sottodominio) all'interno dell'abbonamento. Per saperne di più sulla configurazione PHP personalizzata, consultare la sezione Impostazioni PHP .
---
Leave your feedback on this topic here
If you have questions or need support, please visit the Plesk forum or contact your hosting provider.
The comments below are for feedback on the documentation only. No timely answers or help will be provided.