Samenvatting van abonnement bekijken
Wanneer u een abonnement afsluit op hostingdiensten wordt er een gebruikeraccount in Plesk aangemaakt waarmee u uw websites en postvakken zelf kunt beheren.
U kunt de volgende informatie over uw account bekijken:
De huidige hostingpakketten van uw abonnementen.

U kunt abonnementhouder zijn van een aantal hostingpakketten tegelijkertijd en daarom kunnen er meerdere abonnementen aan uw account zijn gekoppeld.

Toegewezen en gebruikte middelen.
Hostingmogelijkheden die beschikbaar zijn voor uw websites.
Bewerkingen die u in Plesk kunt uitvoeren.
Informatie bekijken over uw account en uw huidige abonnementen:
Ga naar Account.
Om de middelen, hostingopties en rechten te bekijken opent u het juiste tabblad:

Voor een lijst met toegewezen en gebruikte middelen klikt u op het tabblad Middelen.
Voor een lijst met de hostingmiddelen die voor uw account beschikbaar zijn klikt u op het tabblad Hostingopties.
Voor een lijst met bewerkingen die u in Hostingbeheer kunt uitvoeren klikt u op het tabblad Rechten.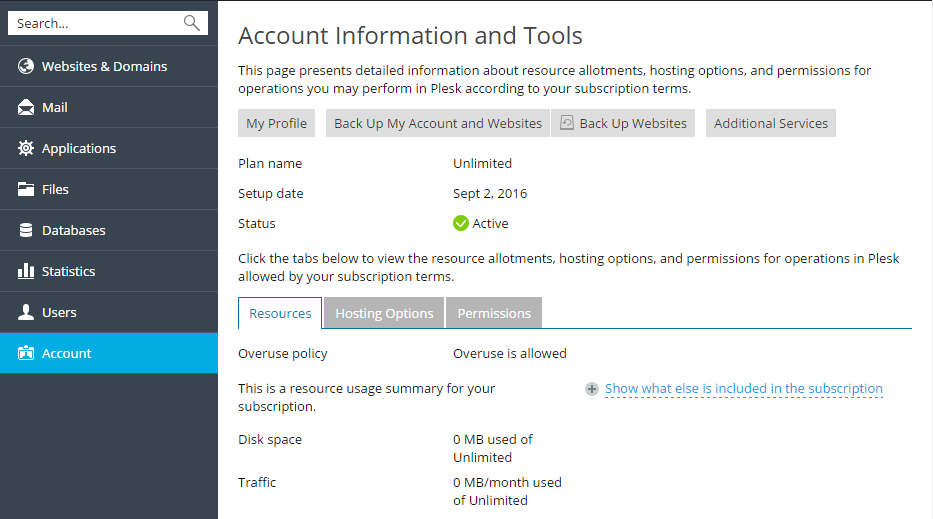 ---
Leave your feedback on this topic here
If you have questions or need support, please visit the Plesk forum or contact your hosting provider.
The comments below are for feedback on the documentation only. No timely answers or help will be provided.