Een voorbeeld van een website bekijken
Als een website net is aangemaakt is deze niet direct op internet beschikbaar. Na het registreren van een domeinnaam of na een wijziging van het IP-adres van uw webserver moet de DNS-propagatie zijn voltooid voordat mensen uw website kunnen bezoeken. Dit kan tussen de 24 en 48 uur duren. Plesk stelt u echter in staat om uw website direct te bekijken nadat deze is gepubliceerd, via de functie Voorbeeld van site.
Een voorbeeld van een site bekijken:
Ga naar Websites & domeinen.
Klik op Voorbeeld onder de domeinnaam van de website die u wilt bekijken.
Uw website zal worden geopend in een nieuw tabblad van uw browser. U kunt de link naar uw sitevoorbeeld delen met anderen - deze link werkt waar ook ter wereld.
Als u geen knop Voorbeeld ziet op de pagina Websites & domeinen, neem dan contact op met uw hostingprovider.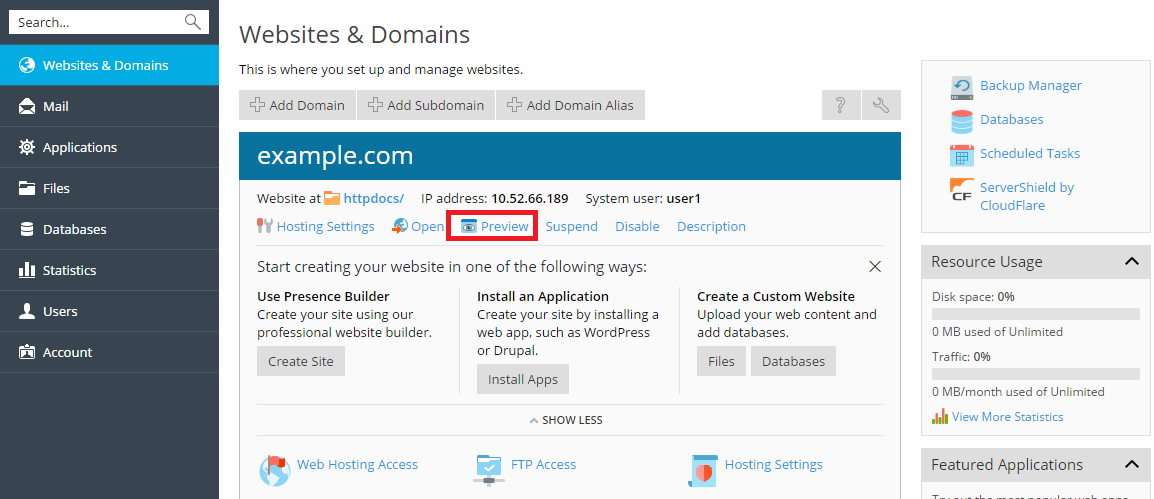 ---
Leave your feedback on this topic here
If you have questions or need support, please visit the Plesk forum or contact your hosting provider.
The comments below are for feedback on the documentation only. No timely answers or help will be provided.