Konfigurieren von Hosting-Paketen
Zum Erstellen eines Hosting-Service-Pakets in Plesk führen Sie im Server-Administrations-Panel den Assistenten unter Service-Pakete > Paket hinzufügen aus.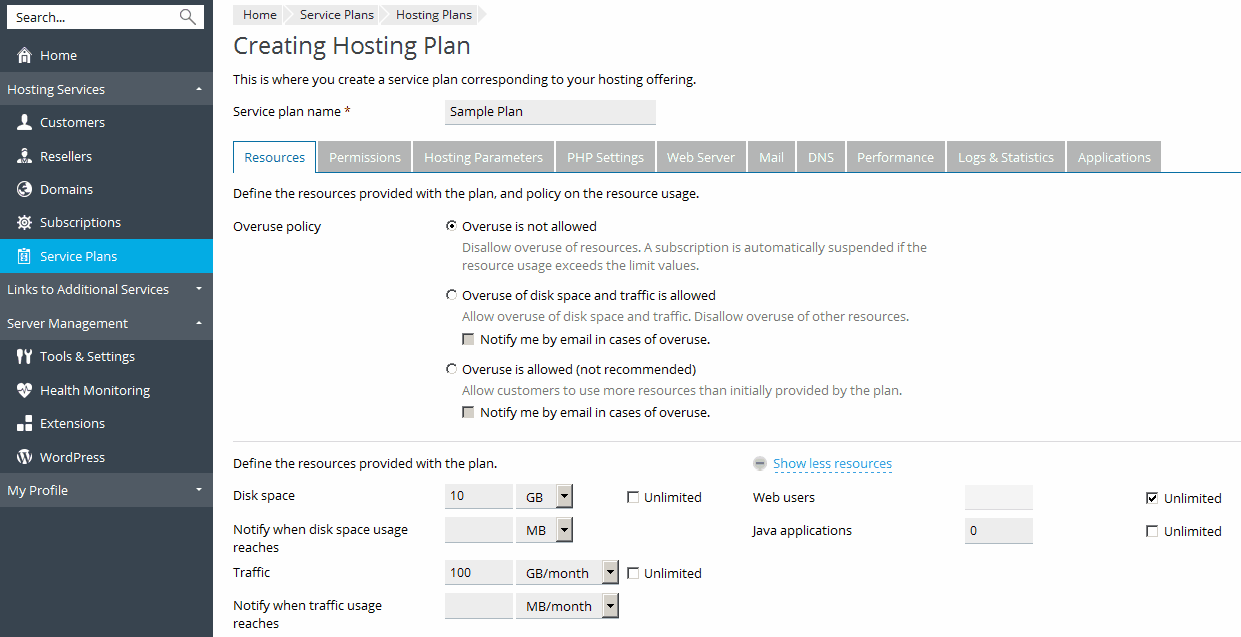 Während des Prozesses der Paketerstellung werden Sie aufgefordert, verschiedene Paketparameter anzugeben. Weitere Informationen erhalten Sie nachfolgend in diesem Abschnitt.
Wenn Sie bereits über Service-Pakete verfügen und Pakete mit ähnlichen Einstellungen erstellen wollen, können Sie Kopien dieser Pakete erstellen, indem Sie auf der Seite Service-Pakete auf Paket klonen klicken und die Kopien wie in diesem Abschnitt beschrieben bearbeiten.
Sobald das Paket erstellt wurde, können Sie mit der Betreuung Ihrer Kunden beginnen. Das heißt, Sie können Kundenkonten und -abonnements erstellen. Weitere Informationen finden Sie im Abschnitt Erstellen von Paketabonnements für Kunden.
---
Leave your feedback on this topic here
If you have questions or need support, please visit the Plesk forum or contact your hosting provider.
The comments below are for feedback on the documentation only. No timely answers or help will be provided.