Ablaufverfolgung für Anforderungsfehler
Das Feature zur Ablaufverfolgung für Anforderungsfehler hilft Benutzern bei der Untersuchung von Problemen mit ihren Websites. Es macht Protokolldateien für IIS-Anforderungsfehler über die Plesk Benutzeroberfläche abrufbar. Die Anforderungsfehlerdateien enthalten Informationen wie die angeforderte URL, den Namen des jeweiligen Anwendungspools, den HTTP-Status und mehr.
Zum Abrufen der Liste aller bisher erstellten Dateien für Anforderungsfehler für eine Domain gehen Sie zur Seite Websites & Domains der entsprechenden Domain > Ablaufverfolgung für Anforderungsfehler. Wenn Sie dort auf eine Anforderungsfehlerdatei klicken, können Sie ihren Inhalt einsehen. Außerdem können Sie eine oder mehrere Dateien als ZIP-Datei herunterladen oder Dateien entfernen, die nicht mehr benötigt werden. Eine neue Ablaufverfolgung können Sie starten, indem Sie einen oder mehrere HTTP-Statuscodes angeben, genauso wie die IIS-Komponente bzw. IIS-Komponenten, für die die Anforderungsfehlerdateien erstellt werden sollen. Nach dem Start der Ablaufverfolgung können Sie diese Einstellungen jederzeit ändern.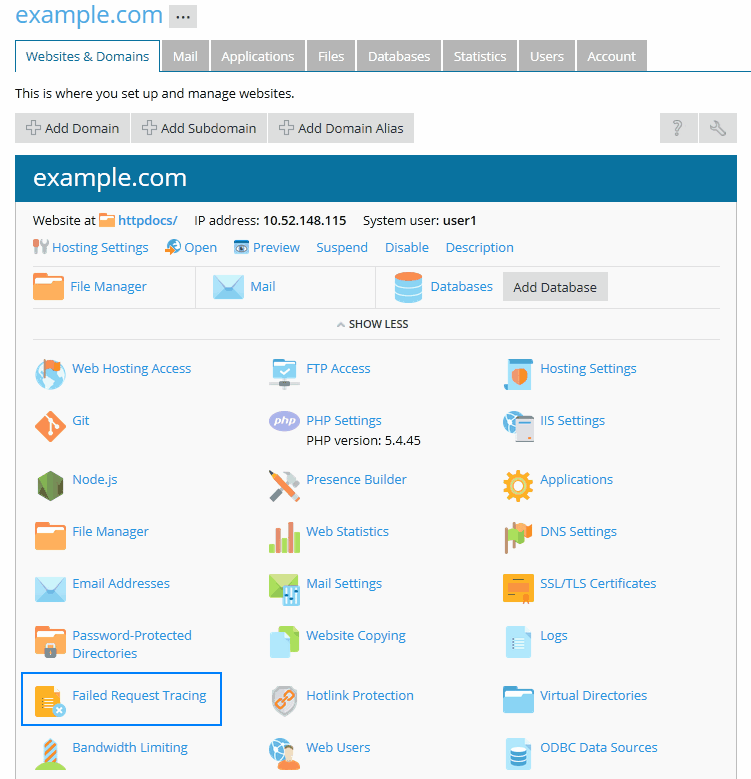 Die Ablaufverfolgung für fehlgeschlagene Abfragen ist ressourcenintensiv. Wenn Sie der Plesk Administrator sind, wollen Sie daher diese Option möglicherweise für Ihre Kunden ausblenden. Dazu gehen Sie zu Tools & Einstellungen > Serverkomponenten und deaktivieren die Komponente Ablaufverfolgung für Anforderungsfehler.
---
Leave your feedback on this topic here
If you have questions or need support, please visit the Plesk forum or contact your hosting provider.
The comments below are for feedback on the documentation only. No timely answers or help will be provided.