Seguimiento de peticiones fallidas
Esta prestación pone a disposición de los usuarios los archivos de peticiones fallidas de IIS en la interfaz de Plesk, de forma que puedan resolver cualquier incidencia con sus sitios web. Los archivos de peticiones fallidas contienen información como por ejemplo la URL solicitada, el nombre del grupo de aplicaciones, el código de estado HTTP, etc.
Si desea ver la lista de todos los archivos de peticiones fallidas creados hasta el momento en un dominio, vaya a la página Sitios web y dominios de dicho dominio > Seguimiento de peticiones fallidas. Puede hacer clic en cualquier archivo de peticiones fallidas para ver su contenido y también descargar los archivos en formato ZIP o eliminar aquellos archivos que ya no necesite. Si desea iniciar un nuevo seguimiento, especifique uno o más códigos de estado HTTP y el componente o los componentes IIS para los que se crearán archivos de peticiones fallidas. Una vez iniciado el seguimiento, puede modificar la configuración de seguimiento en cualquier momento.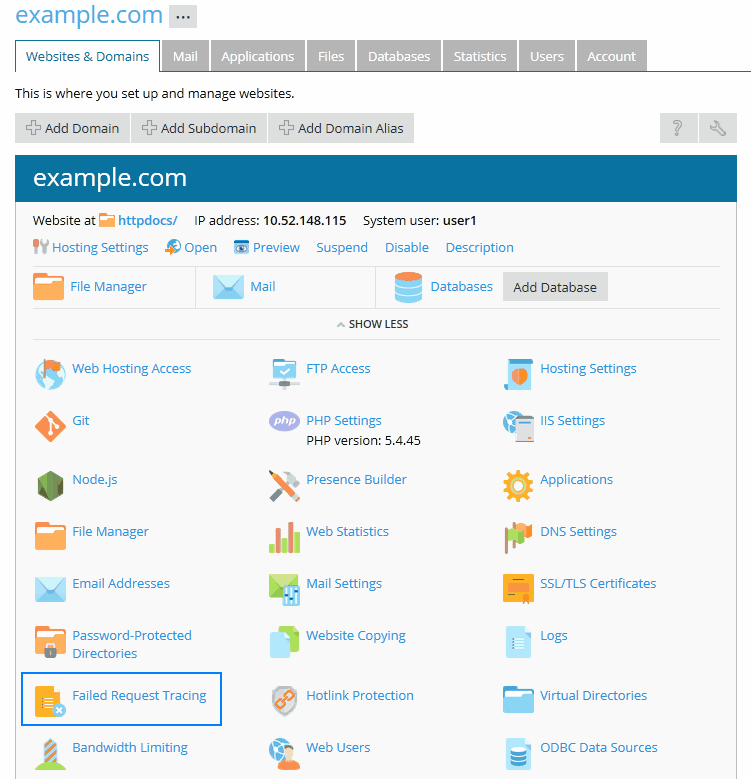 El seguimiento de las peticiones fallidas es una operación que consume un gran número de recursos. Si usted es el administrador de Plesk, quizá le interese inhabilitar el servidor temporalmente. Para ello, vaya a Herramientas y configuración > Componentes del servidor y desactive el componente Seguimiento de peticiones fallidas.
---
Leave your feedback on this topic here
If you have questions or need support, please visit the Plesk forum or contact your hosting provider.
The comments below are for feedback on the documentation only. No timely answers or help will be provided.