Anzeigen einer Vorschau von Websites
Nachdem eine Website erstellt wurde, ist sie nicht sofort im Internet verfügbar. Wenn Sie einen Domainnamen registriert oder die IP-Adresse Ihrer Website geändert haben, muss erst die Verbreitung Ihrer DNS-Informationen abgeschlossen sein, bevor Ihre Website online besucht werden kann. Dies kann zwischen 24 und 48 Stunden dauern. Plesk ermöglicht Ihnen jedoch schon gleich nach der Veröffentlichung, Ihre Website zu öffnen - dank der Vorschaufunktion.
So zeigen Sie eine Website-Vorschau an:
Gehen Sie zu Websites & Domains.
Klicken Sie auf Vorschau unter dem Namen der Website, die Sie vorab ansehen möchten.
Nun wird sich Ihre Website in einem neuen Browsertab öffnen. Sie können zudem die Vorschau mit anderen Menschen teilen. Sie funktioniert überall auf der Welt.
Wenn die Schaltfläche Vorschau nicht auf der Seite Websites & Domains vorhanden ist, sollten Sie sich an Ihren Hosting-Provider wenden.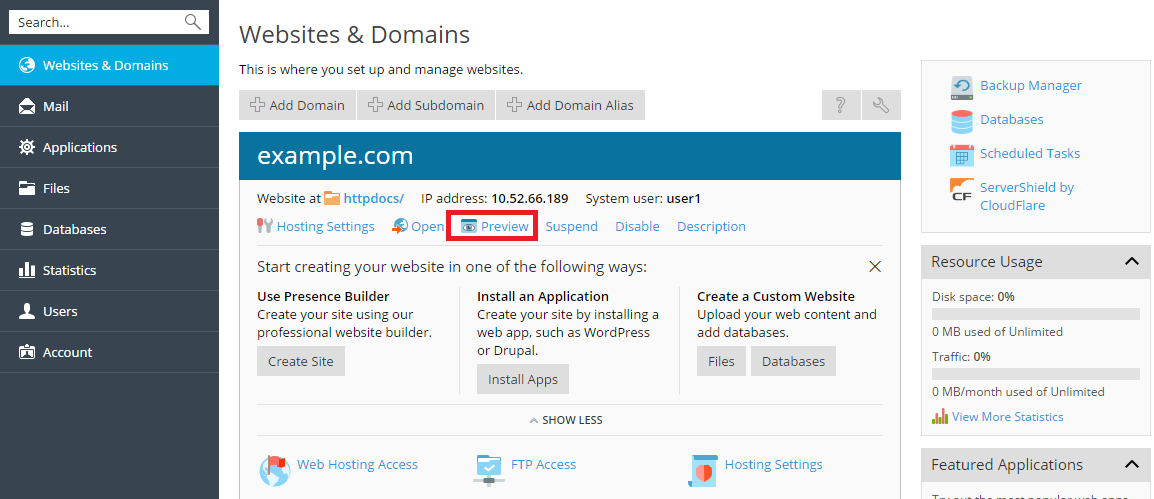 ---
Leave your feedback on this topic here
If you have questions or need support, please visit the Plesk forum or contact your hosting provider.
The comments below are for feedback on the documentation only. No timely answers or help will be provided.