Previsualización de sitios web
Una vez creado un sitio web, este no está disponible al instante en Internet. Tras registrar un nombre de dominio o cambiar la dirección IP de su sitio, es necesario propagar el DNS para que así el sitio pueda visitarse en la red. Esta propagación puede tardar unas 24-48 horas. De todos modos, Plesk le permite visualizar su sitio web de inmediato tras haberlo publicado gracias a la función de previsualización de sitios web.
Para previsualizar un sitio web:
Vaya a Sitios web y dominios.
Haga clic en Vista previa debajo del nombre del sitio web que desea previsualizar.
Su sitio web se abrirá en una nueva pestaña del navegador. Puede compartir el enlace de previsualización, ya que este funciona en cualquier parte.
Si en la página Sitios web y dominios no puede ver el botón Vista previa, póngase en contacto con su proveedor de hosting.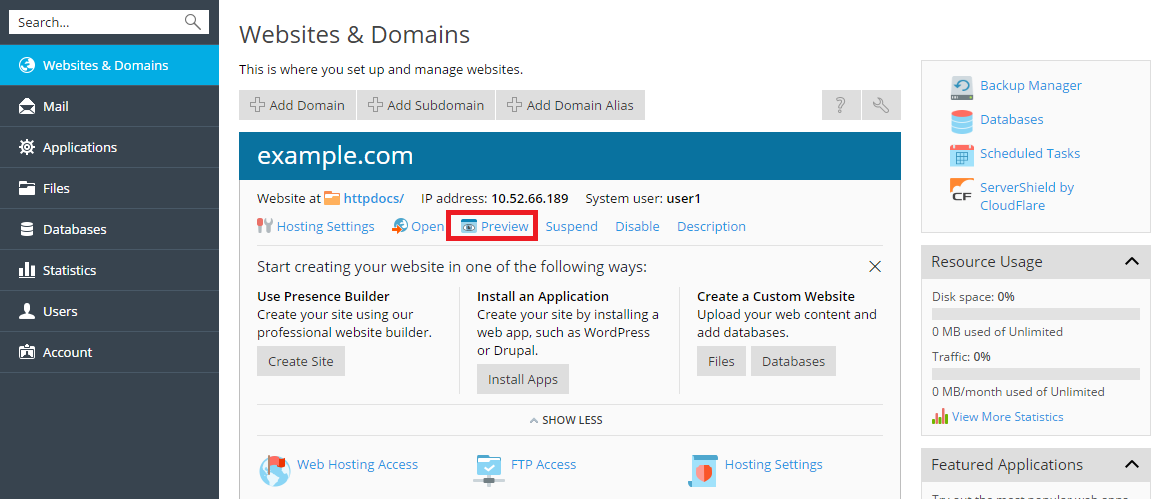 ---
Leave your feedback on this topic here
If you have questions or need support, please visit the Plesk forum or contact your hosting provider.
The comments below are for feedback on the documentation only. No timely answers or help will be provided.