Data e orario di sistema
È possibile definire manualmente la data e l'ora del server tramite l'interfaccia ed abilitare la sincronizzazione dell'ora del server con un server NTP (Network Time Protocol).
Per definire le impostazioni della data e dell'ora di sistema:
Vai su Strumenti e impostazioni> Ora di sistema.
Modifica le impostazioni sull'ora e la data nel modo desiderato e seleziona la propria zona oraria.

Sarà necessario riavviare il server gestito da Plesk perché la modifica sulla zona oraria abbia effetto.

Avviso per gli utenti di Plesk per Windows:Deselezionare la casella di controllo Regolare automaticamente l'orologio per salvare le modifiche realizzare di giorno se non si desidera che Plesk regoli automaticamente l'orologio del server.

Per sincronizzare l'ora del server con quella di un server che esegua Network Time Protocol, selezionare la casella di controllo Sincronizza ora di sistemae indicare un indirizzo IP o un nome di dominio valido. Per una lista di server NTP disponibili, visita http://support.ntp.org/bin/view/Servers/WebSearch
Fare clic su OK.
Nota:Abilitare la funzione Sincronizza ora di sistemasovrascriverà qualsiasi ora e data inserita manualmente nei campi Data e ora di sistema. Inoltre, accertati che il nome di dominio o indirizzo IP inserito per la sincronizzazione sia un server NTP valido. Altrimenti, questa funzione non sarà attiva ed il tuo server continuerà ad utilizzare le proprie impostazioni dell'ora correnti.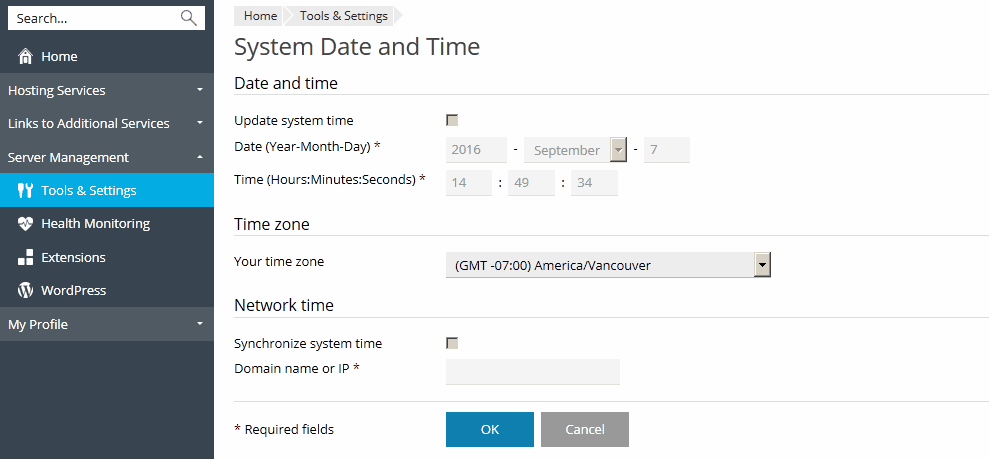 ---
Leave your feedback on this topic here
If you have questions or need support, please visit the Plesk forum or contact your hosting provider.
The comments below are for feedback on the documentation only. No timely answers or help will be provided.