Systemdatum und -zeit
Sie können Datum und Uhrzeit des Servers manuell über die Benutzeroberfläche festlegen und die Synchronisierung der Serverzeit mit einem NTP-Server (Network-Time-Protocol-Server) aktivieren.
So passen Sie die Einstellungen für Systemdatum und -zeit an:
Gehen Sie zu Tools & Einstellungen > Systemzeit.
Ändern Sie die Einstellungen für Datum und Uhrzeit nach Bedarf und wählen Sie Ihre Zeitzone aus.

Sie müssen Ihren von Plesk verwalteten Server neu starten, damit die Änderung der Zeitzone wirksam wird.

Hinweis für Benutzer von Plesk für Windows: Deaktivieren Sie das Kontrollkästchen Uhr automatisch auf Sommer- bzw. Winterzeit umstellen, wenn die Uhr des Servers in Plesk nicht automatisch angepasst werden soll.

Um die Zeit des Servers mit der eines NTP-Servers zu synchronisieren, aktivieren Sie das Kontrollkästchen bei Systemzeit synchronisieren und geben eine gültige IP-Adresse oder einen Domainnamen an. Eine Liste mit verfügbaren NTP-Servern finden Sie unter http://support.ntp.org/bin/view/Servers/WebSearch
Klicken Sie auf OK.
Hinweis: Durch das Aktivieren der Funktion Systemzeit synchronisieren werden alle Datums- und Uhrzeitangaben, die Sie manuell in die Felder Systemdatum und -zeit eingeben, außer Kraft gesetzt. Stellen Sie auch sicher, dass es sich bei dem Domainnamen bzw. der IP-Adresse, den bzw. die Sie für die Synchronisierung eingeben, um einen gültigen NTP-Server handelt. Andernfalls funktioniert die Synchronisierung nicht und der Server wird weiter mit den aktuellen Zeiteinstellungen ausgeführt.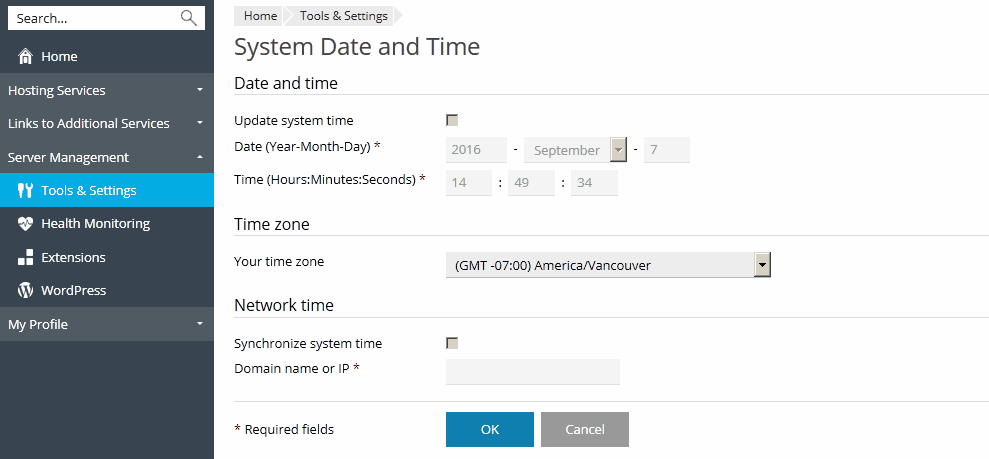 ---
Leave your feedback on this topic here
If you have questions or need support, please visit the Plesk forum or contact your hosting provider.
The comments below are for feedback on the documentation only. No timely answers or help will be provided.