Impostazioni PHP
Scegli uno dei seguenti gestori PHP su Parametri di Hosting> Tipo di gestore PHPprendendo in considerazione l'utilizzo delle risorse e gli aspetti di sicurezza di ogni opzione: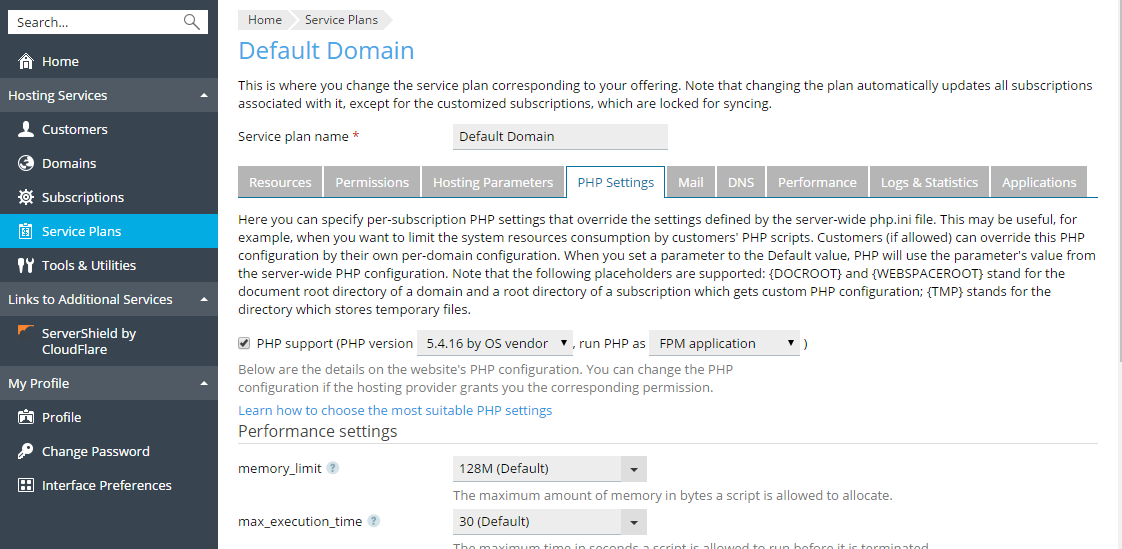 Nota: Il passaggio di PHP dal modulo Apacheverso l'applicazione FastCGIpotrebbe interrompere la funzionalità degli script PHP esistenti. Il passaggio a PHP-FPMselezionando Elabora PHP da nginxnelle impostazioni del server web del sito web ha lo stesso risultato.
Versione di PHP
Plesk supporta diverse versioni di PHP. Per ogni gestore, una o più versioni PHP possono essere disponibili. L'elenco delle versioni disponibili è definito dal proprio fornitore di hosting e sarà accessibile direttamente dalla stessa posizione in cui si seleziona il gestore PHP: Siti web e domini> nome_dominio > Impostazioni di hosting.
Nota: Usa sempre PHP 5.x salvo nei casi in cui sia necessario PHP 4.x per ospitare alcune vecchie app PHP.
A partire dalla versione Plesk 10.4, è possibile regolare la configurazione PHP individualmente per ogni abbonamento o piano di hosting. A tale scopo, Plesk presenta numerose impostazioni di configurazione PHP nella scheda Impostazioni PHP. Per maggiori informazioni sulla configurazione PHP personalizzata per ogni abbonamento, consultare la sezione Personalizzare la Configurazione PHP .
---
Leave your feedback on this topic here
If you have questions or need support, please visit the Plesk forum or contact your hosting provider.
The comments below are for feedback on the documentation only. No timely answers or help will be provided.