在阿里云上安装Plesk
提供的产品配置
查看 Alibaba Cloud 上支持的 Plesk 配置。
在阿里云上安装Plesk
登录或创建 一个阿里云账号。

Go to the Alibaba Cloud console > Elastic Computer Service (in the left navigation bar).

Click Instances, and then click the Create Instance button in the top right corner of the screen.

选择其中一个 定价模式 :

Pay-As-You-Go costs more per hour, but if you choose this model, you are billed per hour and can cancel at any time. This pricing model allows you to try out Plesk on Alibaba cheaply, but is not well-suited for hosting.
Subscription is cheaper in the long run, but requires prepayment and monthly commitment. If you decide that Plesk on Alibaba is right for you, we recommend using this model for web hosting.

选择数据中心的 地区和区域 。如果您计划托管小型企业网站,我们建议您选择最靠近其地理位置的数据中心地区和区域,这样有利于降低本地访客访问时的页面加载时间。

选择实例类型。

当选择要部署 Plesk 的 ECS 实例 时,请注意其所配置的 RAM 内存容量。要托管的网站越多,托管网站生成的流量越多,需要的 RAM 内存就越多。请参阅 Plesk 系统要求 预估您的设置需要的 RAM 内存容量。

如果您不确定要选择哪个实例,我们建议您以 1 CPU core/1 GB 内存实例开始,若有必要之后再将其升级。注意只有 订阅定价模式 支持实例升级。

Set "Network Bandwidth Peak" to "0 M" to have the option to later bind an Elastic IP address to your instance. An Elastic IP address is a public IP address assigned to your instance that does not change every time the instance is restarted. Having a constant public IP address is required for web hosting.

Under "Choose the Operating System", select the Marketplace Image tab.

Type plesk in the "Search in all products" field and click the magnifying glass icon.

Under "Choose Storage", we recommend selecting SSD Cloud Disk for your website hosting and adding at least one Ultra Cloud Disk or Basic Cloud Disk for storing backups.

Under "Security Settings", set the authentication method for your instance (password or key-based authentication).

Under "Purchase Plan", specify the number of instances you want to purchase and, if necessary, the instance name.

Click Buy Now, and then click Activate.

When the instance has been successfully activated, you can see it in the Alibaba Cloud console (Elastic Computer Service > Instances > click the data center region you specified during purchase).
此时您的实例则开始运行了。若要开始使用Plesk,您需要执行一个简单的安装后配置。
阿里云实例上的Plesk 安装后配置。
打开Plesk 使用的端口
默认不管什么时候创建一个实例,都只有 某些端口 被允许用于入站连接,而Plesk 使用的端口会被关闭。要想 Plesk 和其服务正常运行,您需要打开 下面的端口 (将 安全组规则 添加到所需的实例)。
有以下两种实现方式:
添加单个安全规则允许所有传入连接:如果您对 Plesk 或/和 Alibaba 并不是特别熟悉可选择该选项。但是,如果您选择了该选项,强力建议您使用

Plesk 防火墙

。
Add multiple security rules allowing incoming connections only to

ports required by Plesk

. We recommend choosing this option if you run many instances in Alibaba Cloud. In this case, you will be able to control security rules applied to all instances from one place, the "Security Groups" screen.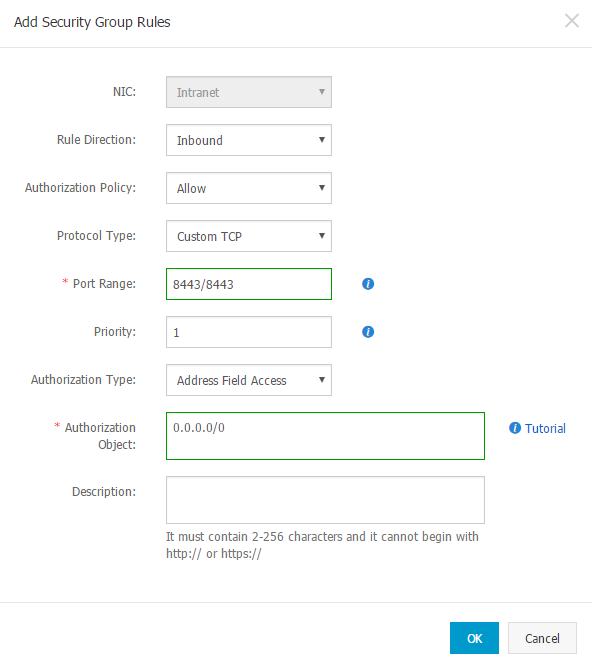 第一次访问 Plesk
若要第一次登录 Plesk,需要生产一次性登录链接。进入生成的 URL 以登录 Plesk 并设置管理员密码。然后将可以使用该密码登录 Plesk。
若要第一次登录 Plesk,请如下操作:
访问实例命令行:

运行命令:

sudo plesk login 

|

 grep -v localhost.localdomain


将会生成一次性登录链接。使用该链接以管理员身份访问Plesk。
当您第一次访问 Plesk 时,会要求您提供以下信息:
完整的主机名

默认阿里云会在实例已被启动时给该实例生成并分配一个主机名。但是,某些垃圾邮件过滤器(包括默认的 Plesk 灰名单)会将发自带有此类主机名的服务器的邮件视作垃圾邮件。因此我们建议使用您注册的域名作为服务器主机名。

默认的IP 地址

会自动检测到服务器的私有 IP 地址。不要在Plesk中注册您实例的公共(弹性或互联网)IP地址以避免出现连接问题。只需注册私有 IP 地址。

我们还建议运行下面的命令配置服务器在独立的DNS区域保留子域名的DNS记录:

/usr/local/psa/bin/server_pref -u -subdomain-dns-zone own


管理员的密码