Einstellungen für Webskripting
Für jede Website in Ihrem Abonnement können Sie die Unterstützung der folgenden Programmier- und Skriptsprachen einschalten:
Active Server Pages (ASP)
Microsoft ASP.NET (Windows Hosting)
Server Side Includes (SSI) (Linux Hosting)
PHP Hypertext Preprocessor (PHP)
Common Gateway Interface (CGI)
Fast Common Gateway Interface (FastCGI) (Linux Hosting)
Perl
Python
Zum Einschalten der Unterstützung einer bestimmten Skriptsprache gehen Sie zu Websites & Domains > Hosting-Einstellungen, wählen die Kontrollkästchen neben den gewünschten Skriptsprachen aus und klicken auf OK. Wenn der Link Hosting-Einstellungen nicht angezeigt wird, wenden Sie sich bitte an Ihren Hosting-Provider.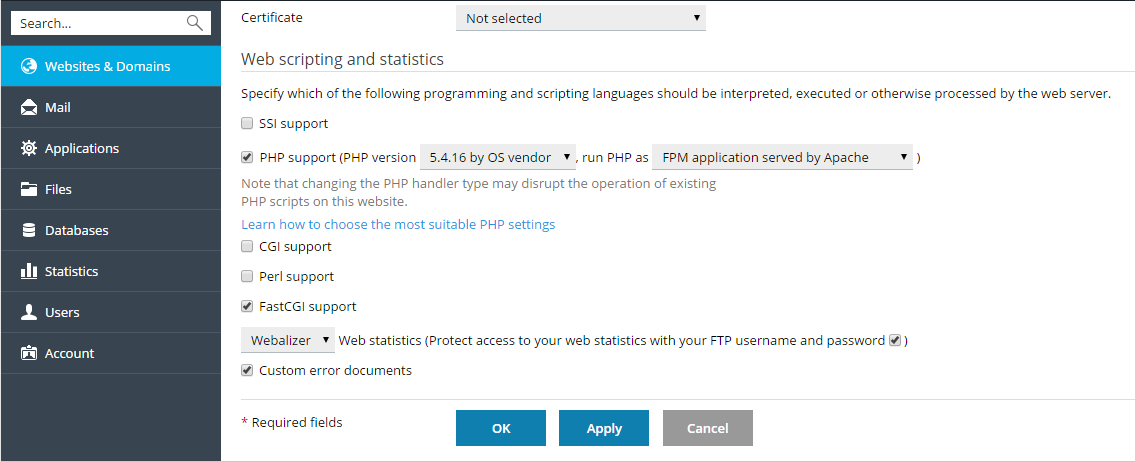 Ab Plesk 10.4 können Sie PHP-Einstellungen für einzelne Websites (oder Subdomains) in Ihrem Abonnement konfigurieren. Weitere Informationen zur benutzerdefinierten PHP-Konfiguration finden Sie im Abschnitt PHP-Einstellungen.
---
Leave your feedback on this topic here
If you have questions or need support, please visit the Plesk forum or contact your hosting provider.
The comments below are for feedback on the documentation only. No timely answers or help will be provided.