Changing Your Password and Contact Information
To change your password:
Click the Change Password link in the navigation pane.
Enter your old and new passwords.
Click OK.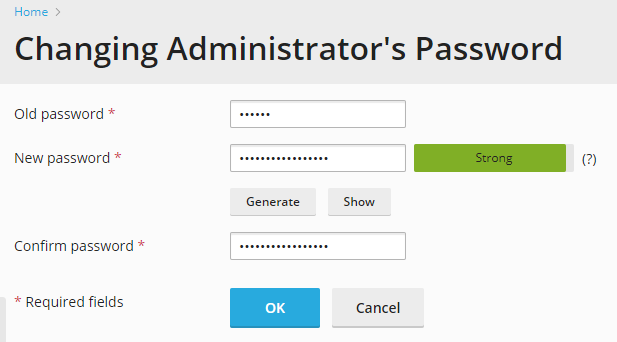 To update your contact information:
Click the Profile & Preferences link in the navigation pane.
Update your information as required, and click OK.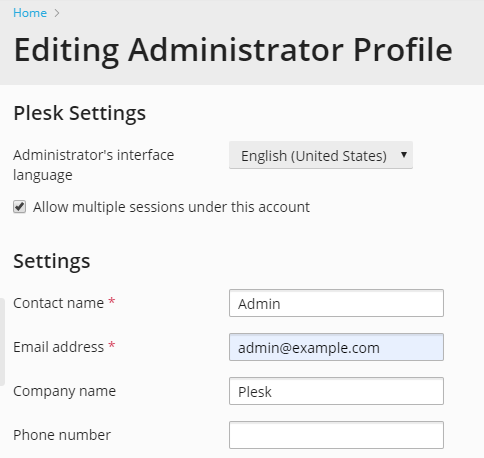 If you forgot your password:
In your web browser's address bar, type the URL where your Plesk is located.

For example, https://your-server.com:8443.

Press ENTER. Plesk login screen will open.
Click the Forgot your password? link.
You will be prompted to specify your login name and email address registered in the system. Type your login name into the Login box, type your email address registered in the system into the Email box, and click OK.
If your password cannot be sent by email because it was stored by the system in encrypted form, you will be prompted to set up a new password using a secret code that will be generated for that purpose and sent to your email.
Once you received the email from the password reminder, click the link in the message body. A new browser window will open.
At this step, specify your login name and a new password.

The Secret Code field of the form should be automatically filled by the system, and if it is not, copy the secret code from the message you received to the clipboard and paste to the form.

Click OK to submit.

The instructions on how to restore your password will be sent to your email address.
---
Leave your comments on this page
Leave your feedback or question on this documentation topic below. For technical assistance, contact your hosting service provider or submit a request to Plesk support. Suggest new features for Plesk here. Discuss general questions on the Plesk forum. All offtopic comments will be removed.