Fecha y hora del sistema
Puede definir la fecha y la hora del servidor manualmente a través de la interfaz y activar la sincronización con un servidor Network Time Protocol (NTP).
Para modificar las opciones de fecha y hora del sistema:
Vaya a Herramientas y configuración > Fecha y hora del sistema.
Cambie la configuración de fecha y hora y seleccione su franja horaria.

Para que estos cambios surjan efecto deberá reiniciar el servidor gestionado por Plesk.

Nota para usuarios de Plesk para Windows: si no desea que Plesk ajuste el reloj del servidor automáticamente, deseleccione la casilla Ajustar el reloj automáticamente según el horario de verano.

Si desea sincronizar la hora de su servidor con el servidor que está ejecutando Network Time Protocol, seleccione la casilla Sincronizar fecha y hora del sistema e indique una dirección IP o un nombre de dominio válido. Si desea examinar la lista de servidor NTP disponibles, visite http://support.ntp.org/bin/view/Servers/WebSearch
Haga clic en ACEPTAR.
Nota: si activa la función Sincronizar fecha y hora del sistema, se sobrescribirá cualquier fecha y hora introducida manualmente en los campos Fecha y hora del sistema. Compruebe que el nombre del dominio o la dirección IP que ha introducido para la sincronización es un servidor NTP válido. De lo contrario, esta función no se ejecutará correctamente y su servidor seguirá teniendo la configuración actual.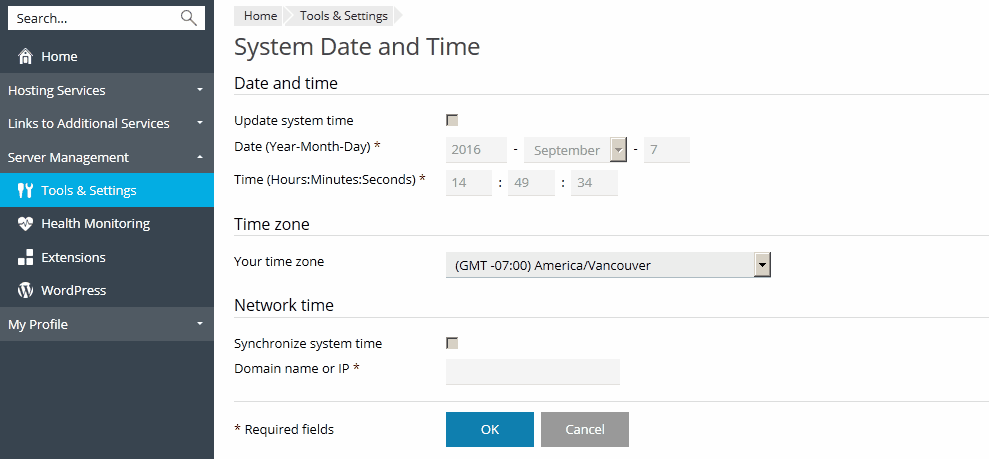 ---
Leave your feedback on this topic here
If you have questions or need support, please visit the Plesk forum or contact your hosting provider.
The comments below are for feedback on the documentation only. No timely answers or help will be provided.