Notificaciones masivas por email
Plesk le permite enviar notificaciones masivas por email a algunos o todos sus revendedores y clientes. Esta función resulta útil, por ejemplo, para informar a sus clientes sobre la realización de una tarea programada de mantenimiento del servidor o para presentar nuevas ofertas de servicios. Puede crear notificaciones por email desde cero o guardarlas en formato de plantillas de mensaje para usos reiterados.
Para crear una plantilla de mensaje, vaya a Herramientas y configuración > Mensajes de email masivos > Añadir plantilla de mensaje de email masivo. Para enviar una notificación, vaya a Herramientas y configuración > Mensajes de email masivos > Enviar email masivo. Para su notificación, podrá usar una plantilla creada con anterioridad o generarla desde cero. Asimismo, puede guardar la notificación como una nueva plantilla de mensaje.
Tenga en cuenta que puede utilizar el marcador de posición <name> en el cuerpo del mensaje, pero no en el encabezado. El marcador de posición será sustituido por la información que contenga el campo Nombre de contacto de cada cliente o revendedor destinatario.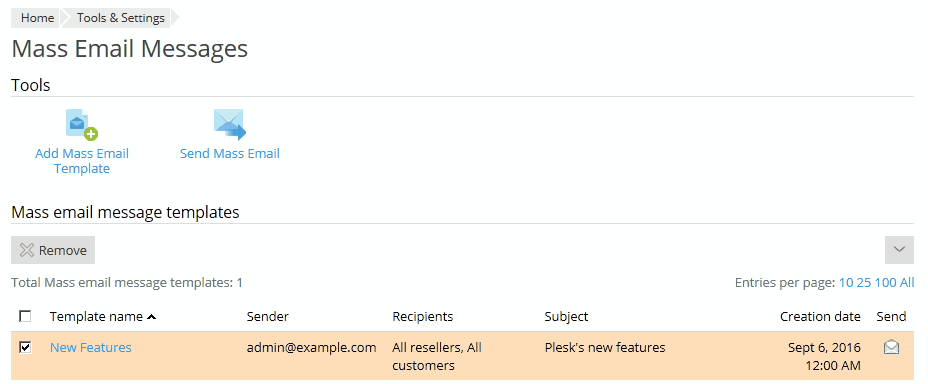 ---
Leave your feedback on this topic here
If you have questions or need support, please visit the Plesk forum or contact your hosting provider.
The comments below are for feedback on the documentation only. No timely answers or help will be provided.