Notifications par publipostage
Plesk vous permet d'envoyer des notifications par publipostage à certains ou à tous vos clients et revendeurs. Utilisez cette fonctionnalité par exemple pour informer vos clients des maintenances planifiées du serveur ou pour leur proposer de nouvelles offres. Vous pouvez créer de A à Z les notifications ou les enregistrer sous forme de templates de messages que vous réutiliserez.
Pour créer un template de message, allez sous Outils & Paramètres > Mail de publipostage > Ajouter un template de mail de publipostage. Pour envoyer une notification, allez sous Outils & Paramètres > Mail de publipostage > Envoyer un mail de publipostage. Vous pouvez baser votre notification sur un template créé au préalable ou le créer de A à Z. Vous pouvez également enregistrer votre notification sous forme de nouveau template de message.
Remarque : vous pouvez utiliser la variable <name> dans le corps du message, mais pas dans l'en-tête. Pour chaque destinataire, la variable est remplacée par les informations du champ Nom du contact du client ou du revendeur correspondant.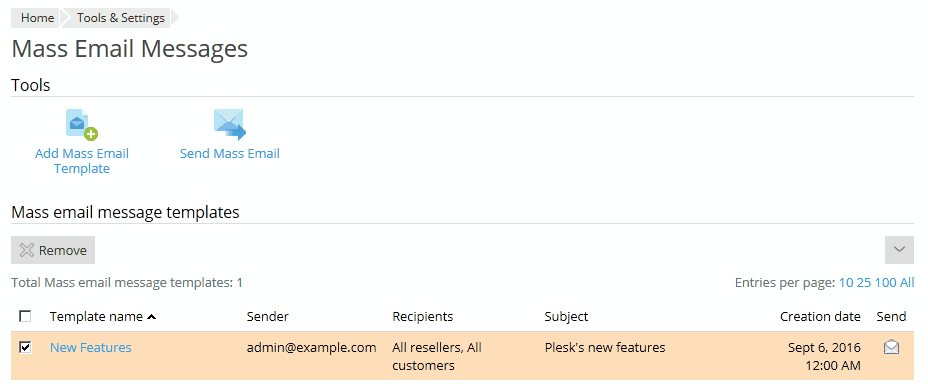 ---
Leave your feedback on this topic here
If you have questions or need support, please visit the Plesk forum or contact your hosting provider.
The comments below are for feedback on the documentation only. No timely answers or help will be provided.