Notifiche email di massa
Plesk consente di inviare notifiche email di massa ad alcuni o a tutti i rivenditori e clienti. Puoi usare questa funzionalità, ad esempio, per informare i clienti sul mantenimento del server pianificato o per presentare nuove offerte di servizio. Le notifiche email possono essere create da capo o salvate in modo di modelli di messaggio per l'uso ripetuto.
Per creare un modello di messaggio, vai su Strumenti e impostazioni> Messaggi email di massa> Aggiungi modello email di massa. Per inviare una notifica, vai su Strumenti e impostazioni> Messaggi email di massa> Invia email di massa. Puoi basare la tua notifica su un modello creato in precedenza o crearlo da capo. Puoi anche salvare la tua notifica in forma di un nuovo modello di messaggio.
Tieni presente che puoi usare il segnaposto <name> nel campo del messaggio, ma non nell'intestazione. Per ogni destinatario, il segnaposto verrà sostituito dall'informazione contenuta nel campo Nome di Contattodel relativo cliente o rivenditore.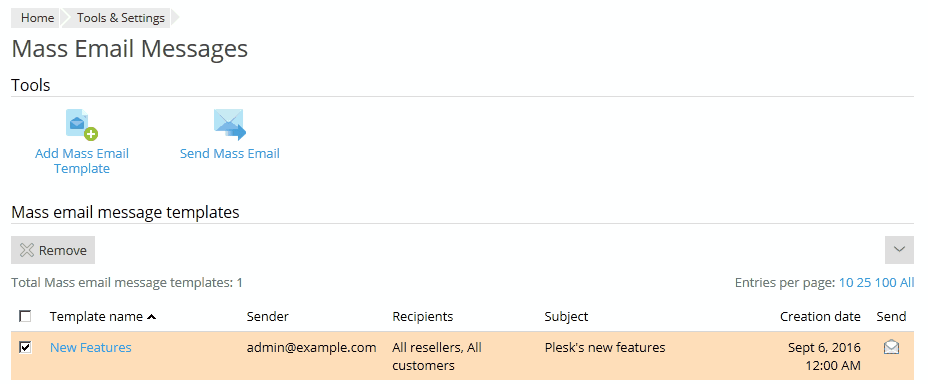 ---
Leave your feedback on this topic here
If you have questions or need support, please visit the Plesk forum or contact your hosting provider.
The comments below are for feedback on the documentation only. No timely answers or help will be provided.